Posted on August 9, 2019

We are bringing one of the largest cornhole tournaments in the world to the Getty Sing! Conference. It all takes place on Monday night with up to 1000 people spread over two back-to-back sessions. If you are registered, make sure you read everything below so that you come prepared.
Posted on June 14, 2019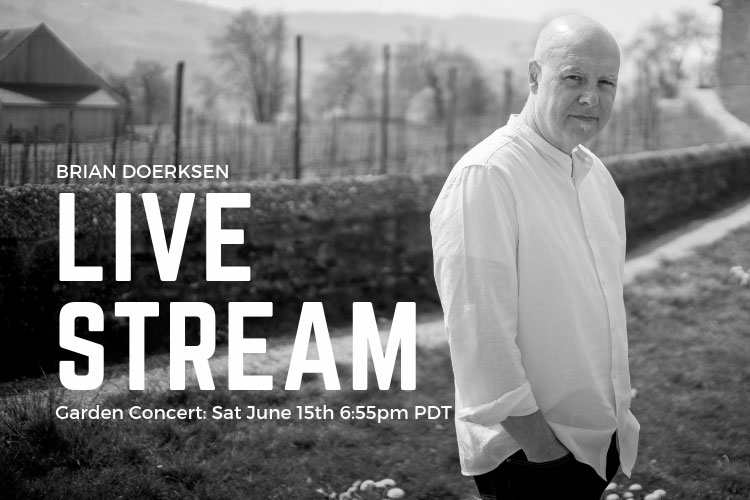 While PraiseCharts officially began more than 20 years ago, the early seeds of inspiration took life in the early 1990's. Ryan Dahl, founder of PraiseCharts, was in the thick of university while interning at his home church (and learning to play acoustic guitar). At the same time, a new movement of worship was coming to life, and a key voice in that season for Ryan was Brian Doerksen (with Vineyard Music)... more
Posted on May 3, 2019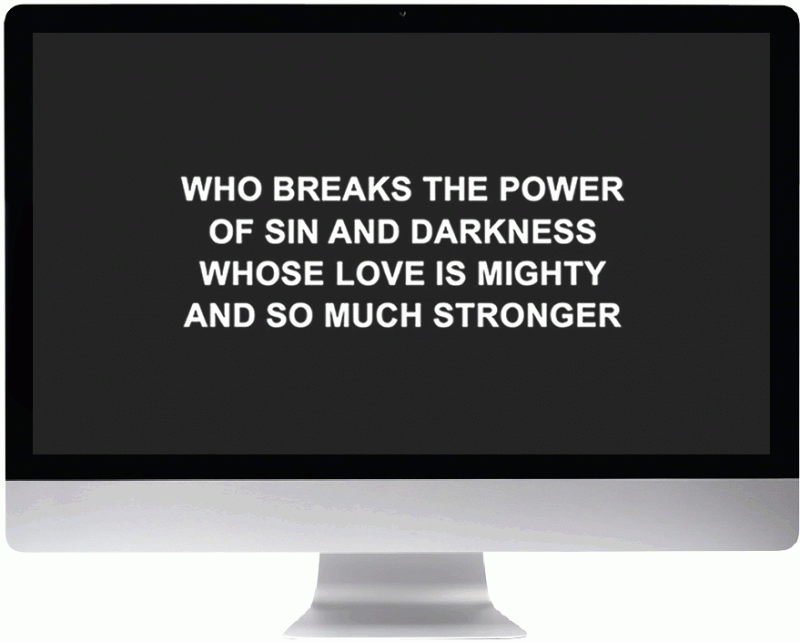 We are taking all the guesswork out of preparing worship slides, and saving you precious time with our new lyric slides.  Our lyrics are clean, clear, and accurate, PLUS they match both the original recording and our sheet music arrangements word for word, measure for measure, from beginning to end. Your slide operator will breath a sigh of relief knowing they can just click forward through each slide as the song progresses.  Every lyric slides package comes with a variety of formats and file types, including ProPresenter and PowerPoint. Check the end of the blog for free lyric files through May.
Posted on February 4, 2019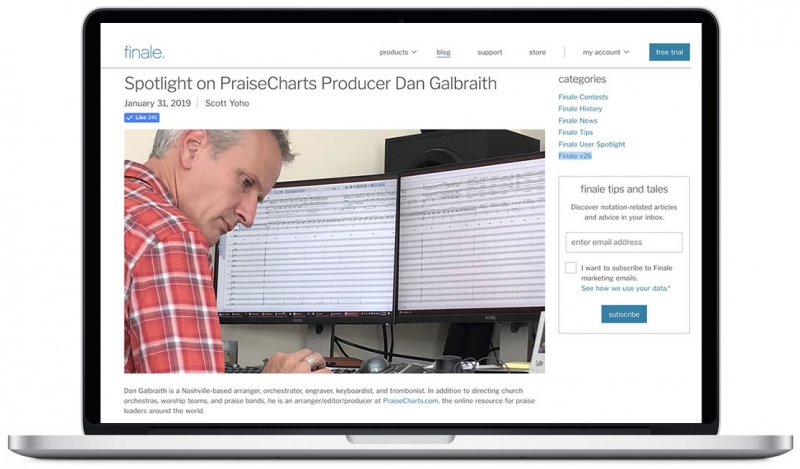 We create a lot of different kinds of charts, but the crowning jewel of PraiseCharts is our modern worship orchestrations, uniquely designed for weekly congregational worship. Over the years, Dan Galbraith has penned more than 1500 full orchestrations for PraiseCharts. Along the way, he has attracted quite a following of music ministers who have come to trust his keen understanding of worship, music, and all the musicians that make up today's modern orchestra. Behind all the PDF's, Dan has literally become a master of one of the premier software platforms for arranging and transcribing: Finale.  Recently, FinaleMusic interviewed Dan Galbraith, and have now posted a full story in their blog, highlighting Dan's journey as an arranger. Take a moment to peal back the curtain and get a behind-the-scenes look at the man who leads our network of arrangers at PraiseCharts. Read the full story at www.finalemusic.com/blog.
Posted on January 7, 2019
Over the holidays, our arrangers and transcribers have been busy getting ready for the new year. As we launch into 2019, we're excited to roll out seven new highly requested products, giving you more options for your musicians.
Brass Packs - Get the Trumpet, Trombone, Tuba and French Horn parts in this orchestration breakout pack.
String Packs - Get the Violin, Viola, Cello and String Reduction in this orchestration breakout pack.
Wind Packs - Get the Flute/Oboe, Clarinet, Alto Sax and Tenor Sax in this orchestration breakout pack
Lead Sheet (Melody only in 12 keys) - Get the Lead Sheet with melody only in all 12 keys
Lead Sheet (SAT) - Get the Lead Sheet with three part vocals for your praise team or choir, now available as a breakout part.
Piano/Vocal (SATB) - Get the Piano/Vocal with four part vocals for your praise team or choir, now available as a breakout part.
Piano Sheets - Get the Piano part on it's own, without the clutter of the band and vocals
Posted on February 21, 2018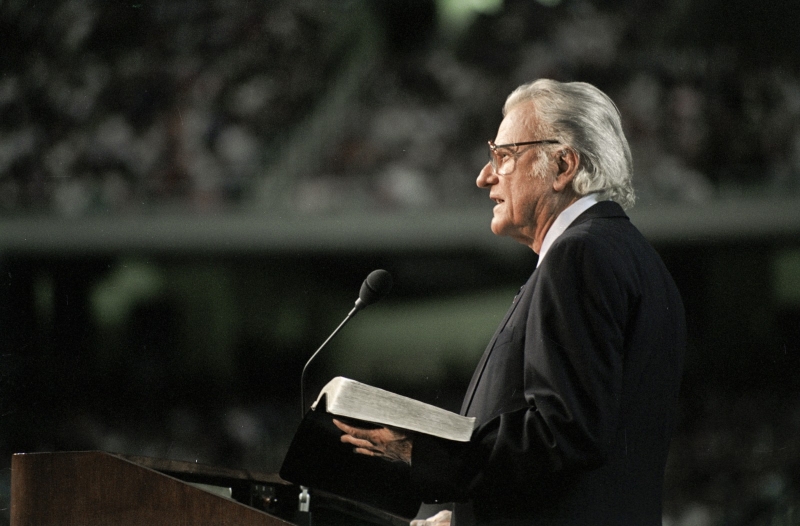 "Someday you will read or hear that Billy Graham is dead. Don't you believe a word of it. I shall be more alive than I am now. I will just have changed my address. I will have gone into the presence of God." -Billy Graham
During the month of February, PraiseCharts will donate all proceeds from Just As I Am to the Billy Graham Evangelistic Association.
Posted on December 10, 2017

December is upon us and for many of you, Christmas music selection and practice may well be underway. However, if you are still working to plan the perfect Christmas worship set or looking for extra resources for your Christmas services, we have complied a large number of top lists to make that planning and selection simpler for you. Take a look at the lists below for a comprehensive list of songs that are trending for Christmas 2017.
Featuring Ryan Dahl Posted on November 14, 2017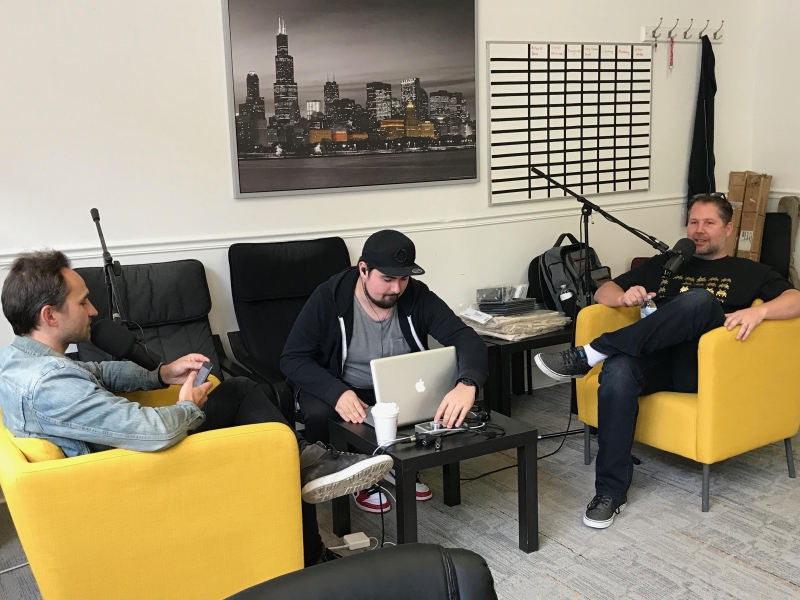 Last week, while passing through Chicago, I stopped in to stir up some "trouble" with Matt McCoy at the LoopCommunity.com head office.
Posted on October 26, 2017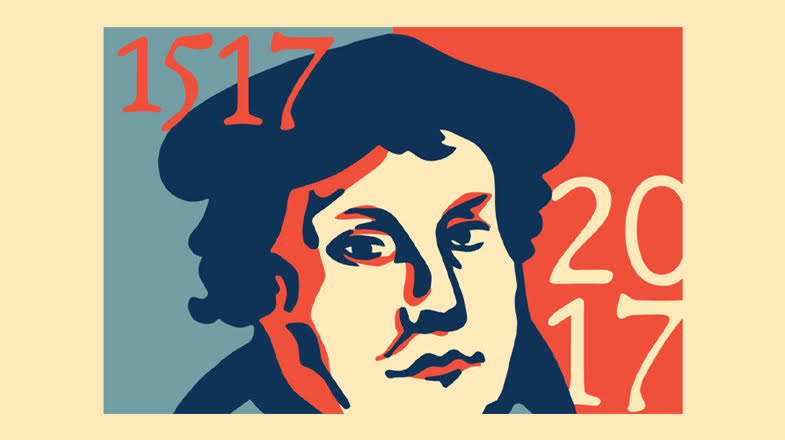 October 31 is not just for candy and costumes; it is a date that prompts reflection in the Protestant calendar. This is the 500th year of the Reformation, and this week is Reformation Sunday.
Posted on September 6, 2017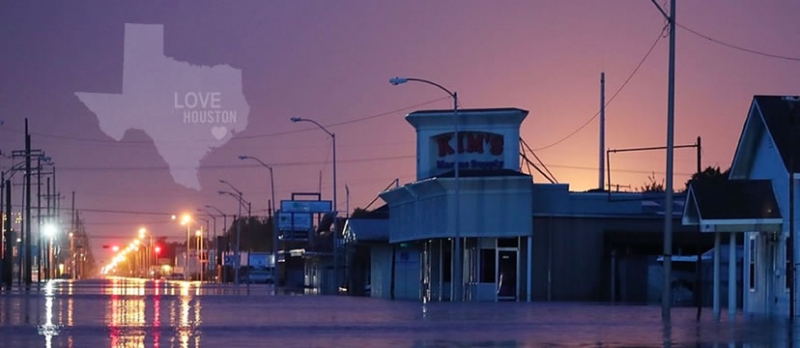 We are overwhelmed by the tragedy facing thousands of displaced families in the wake of Hurricane Harvey. Through PraiseCharts, we are connected to more than 1000 churches in Houston and the surrounding areas. Even one of our long time arrangers had his entire home flooded. Our hearts go out to all who are affected! Truly, there is little we can do to make a meaningful difference, considering the scope of this tragedy. And yet, we cannot just stand by and do nothing. So, we'd like to invite you, our customers, to join us in an attempt at making this small gesture of compassion.
 ...more