Songs Are A Place We Go: A 30-Day Digital Devotional Experience For Worship Musicians
Posted on July 8, 2020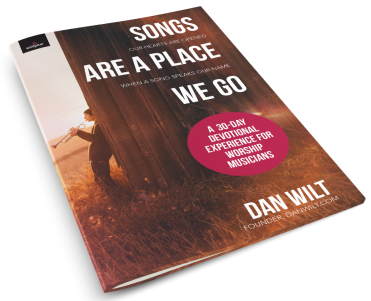 This new 30-Day "teaching devotional" experience is a collection of some of Dan Wilt's best worship devotionals. Teaching "The Worship We Lead" and "The Heart Of The Worship Servant," these devotionals encourage a wide vision of worship. Both All Team and Single Copy versions are available now.
ALL TEAM VERSION
With the ALL TEAM, UNLIMITED version, you have the freedom to download and distribute the 30-Day "teaching devotional" experience, including 30 reflective questions for group discussion, to ALL of your worship team members. Get unlimited digital copies for your entire worship team for only $49.

Use code PRAISECHARTSFRIEND for 10% OFF!
Get the ALL TEAM VERSION
SINGLE COPY VERSION
With the SINGLE COPY version, you can be encouraged yourself, grow in your vision of worship, and use it during rehearsals. Download today for just $10.
Use code PRAISECHARTSFRIEND for 10% OFF!
Get the SINGLE COPY VERSION
 (Code Expires July 31, 2020)
Categories: Featured, News, Resources
Tag: Devotional