Celebrating Dan Galbraith (Arranger, Orchestrator) at 50
Posted on March 13, 2020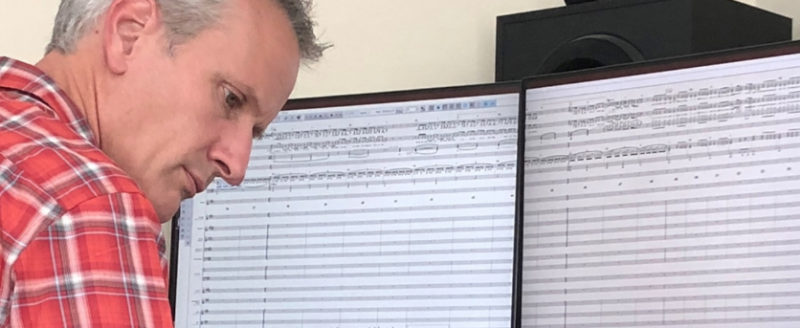 Over the last 20 years, Dan has arranged and orchestrated more than 1500 orchestrations for PraiseCharts. Today is a bit of a milestone as he crosses into the second half of life and turns 50! To celebrate this day, we asked a number of long time customers of PraiseCharts to share a few words of encouragement with Dan. Instead of sending him a card, we're just going to send him a link to this page. Thanks to all of you who contributed your words.  If you want to add to this post, feel free to add your additional comments below in the comment section. We are incredibly privileged to have a man of such deep integrity, heart, skill, and passion for our team.
Celebrating Dan ...
Well, Dan ol' man, I can't believe it, but you have finally passed me up. I have been holding my age at 49 just waiting for you to become more mature than me! Thanks for all the opportunities you have given me to facilitate the praise of God's people. We orchestrators for churches are getting kind of old school now, but it still gives me great fulfillment and you have enabled that calling exponentially! Thank you. I hope we don't have to wait for another PC celebration before we see each other again, but if we do ... See you at the 25th! Grateful wishes to you for a wonderful birthday.
Jeff Moore
Arroyo Grande, CA
PraiseCharts Team
15 years with PraiseCharts
Happy birthday Dan! Thanks for all your work on music we use every single Sunday. You've touched many lives through your ministry bro! Take care and have a great day!
Tim Paul
First Baptist Concord
Knoxville, TN
15 years with PraiseCharts
DAN THE MAN! Hey Brother -- wishing you the best on this HAPPY DAY!! I guess we've been friends over 20 years now--you were just a kid then!! NYC NYC NYC!! Much love to you and yours on this big birthday from me and Courtney! Thanks for all you do--always brings a smile to my face when they players are talking about Dan Galbraith's arrangement--which is all the time 'cus YOU'RE THE GOAT!! Prayers for another great trip around the sun!
Shaun McClellan
Denver First Church
Englewood
17 years with PraiseCharts
Dan, words can't express how you've helped me greatly as the Worship Pastor here at Gardendale First Baptist. This is the first church that I've served that has an orchestra, and to be able to go to PraiseCharts and have everything I need so quickly is just an absolute blessing to all of us in the worship ministry here at GFBC! I pray that God will bless you with many more years in service to Him, PraiseCharts and all of us out here who depend on you and your God-given abilities! Have an incredible 50th birthday!!
Roy McNiel
Gardendale First Baptist
Gardendale, AL
12  years with PraiseCharts
Happy Birthday, Dan! Your ministry has blessed so many churches around the world. Thank you for sharing your gift!
Greg Simon
Valley Fellowship
Huntsville, AL
20  years with PraiseCharts
Hi Dan, thanks so much for all of your hard work over the years. You have enabled us to do some of our favorite worship songs because you took the time to arrange them before anyone else was ready to publish them. Happy Birthday to you and may God bless you!
Jana Harwell
Cross City Church
Euless, TX
10  years with PraiseCharts
Dan, You wouldn't know me but I think* the first time I met you was at Nazarene Youth Congress in Phoenix in 1995...I think. If I'm remembering correctly, you played keys for that event and Craig Adams led worship? Craig and I went to Trevecca together but I grew up on Dallas District at Richardson Nazarene w/ Jon Middendorf and some other Dallas & Richardson folks. My sister Deanna went to Bethany for a year or two but was probably ahead of you. I've known of you a long time and we've done your arrangements for years. Ryan, you and the PraiseCharts team have totally changed church music. Your arrangements are true to originals that folks hear on the radio and that makes a difference in their ears and minds, and mine, too! The two greatest resources for my worship ministry have been PraiseCharts and Prism Music, both huge innovators and game-changers. When I see your name I have warm thoughts about our little Nazarene world and think...I know him!!! (think Will Ferrell in Elf, ha!) It's truly out of gratitude for your work and a personal privilege to wish you a very happy birthday. May God's richest blessings be yours as you continue to enrich the Kingdom through your excellent work!
Michael McAdory
Midland Valley Community Church of the Nazarene
Graniteville, SC
15+  years with PraiseCharts
Hey Dan - Happy birthday, bud! I just wanted to send a note to tell you how grateful I am for you - not only have you been an incredible force in church worship music over the last 20 years, but in every interaction, I've had with you via email - - well, you're clearly a super nice guy. :). Also - from a worship leader's perspective - thanks for your incredible work at PraiseCharts. I've used a bazillion of your charts and they are always awesome!!! I am thankful for you! Happy birthday! PraiseCharts is blessed to have you on their team!
Daniel Semsen
Village Church Burbank
Burbank, CA
17  years with PraiseCharts
Hi Dan, Happy 50th! I've known your name for a long time because we use your vocal and instrumental arrangements a lot! At least 3 new songs for either Church or School or both each week. Before you did this if I wanted music from overseas I had to painstakingly transcribe it then arrange it for our band and orchestra. You made this a whole lot easier!! Our music ministry consists of a 60 voice choir, a 20 piece orchestra, and a band. We live together in a community and we run a Christian School. Music is a huge part of our life... and in that so are you a huge part of our life. If you're ever in Sydney we'd love you to drop in! So have a great half-century celebration!! Phil on behalf of our Music Ministry team. God bless you abundantly as you have blessed us!
Phil Bailey
Redeemer Baptist Church
NSW, Australia
25  years with PraiseCharts
Dan, I've been a music director since I was 21. It's been a lot of years cause now I'm 65 lol. I ALWAYS look for your name on the arrangements because they are always creative and accurate alongside the vocals AND you follow the radio versions! Perfect arranging. Thank you so much. You've made our lives easier and our worship more enjoyable and majestic. Happy birthday! Such a joy to have this opportunity to say thank you.
Deanna Smith
Green Valley Church
Watsonville CA
20  years with PraiseCharts
Hello Dan!! What an awesome arranger you are!! I absolutely love the amount of effort you put into the music. You make life easy for music ministers as I simply print and go! Your beautiful orchestrations are used every Sunday morning and allow us all to worship God almighty in a wonderful way! I hope you have a Happy Birthday!! And don't forget to take a day or two off to enjoy it! You certainly deserve it!
Andy Johnston
Edgewood Baptist
Columbus, GA
6  years with PraiseCharts
Over and over again, I turn to your arrangements as I try to find just the perfect song for our music ministry. Sometimes to find arrangements for our small orchestra to accompany our congregational singing, and sometimes as a special song for our choir to sing, I can always count on your arrangements to be tasteful and appropriate, challenging our musicians without overwhelming them. I am personally blessed by your countless hours of creative energy. May God continue to bless you as you serve the church at large in such a significant and unique way!" "I also turned 50 this year. 1970 - What a great year to start life!
Jonathan Maurer
Salem Evangelical Church
Salem, Oregon
15+ years
Hey Dan, your arrangements have been a Godsend for me and my teams as I served in four different churches over the past 20 years. Thanks for all your hard work... when people compliment our music, I tell them it is a team effort... and you are a big part of that team! I wish you the best (50 isn't so bad... I speak from experience, 62 ain't so bad either!)
Bill Massey
Midway Community Church
Alpharetta, GA
20  years with PraiseCharts
Dan, in the days where the praise band has taken center stage you and Praise Charts have remained faithful writing and arranging the new songs for our orchestra s. Thank you for all you do cause there are those of us who know what goes into what you do and we immensely appreciate all your efforts to serve the church. Happy Birthday, you're still young!
Robert Bresch
Grey Stone Church
Durham NC
12+  years with PraiseCharts
Dan, I started in my first church as a 19-year-old nearly 18 years ago. Like so many, I wanted to do some of the great worship songs that were being written for my people. But at that time I could not play guitar at all and very little piano. I had no way of coming up with my own charts or music for my small church instrumentalists. Then I came across PraiseCharts, specifically your arrangements. I don't know how I would have made it through those early years without your charts! What a blessing from the Lord you were and are! Now at 37, some 18 years later, serving in a large church with great musicians, I still use PraiseCharts every single week and love seeing when you have arranged a song. I'm grateful to God for you and your faithfulness. What an impact you've had for the gospel of Jesus around the world in countless churches and lives! The people in our church wouldn't know your name, but God does. And I'm confident He is saying "Well done, Dan. Have a great birthday Brother!"
Justin Hornsby
First Baptist McKinney
McKinney, Texas
17  years with PraiseCharts
Thanks, Dan for all that you do to create wonderful pieces of music that reflect the original intention of the artists. We at Redeemer, use your arrangements all the time. I work the AV to project the lyrics for both our church and school. I'm the one that downloads the arrangements for our music director and our music ministry team. Once again, Thank you! and a big Happy 50th Birthday. God Bless you as you continue to serve Him with your arrangements.
Craig Burns
Redeemer Baptist Church
North Parramatta, NSW Australia
11  years with PraiseCharts
Dan Galbraith... I don't really even know you, but it's hilarious to me that whenever I look for an orchestration or chart from PraiseCharts, I'm searching for the name "Dan Galbraith."  I'm not exaggerating!  To me, that name means that the chart is excellent, correct, well written and transcribed, super close to the original if not entirely perfect.  I know that I can send with confidence to all our musicians - and that we will all come ready to worship on Sunday with no issues with the written charts.

You've been a valued member of our worship team for a long time, Dan! It's great to finally thank you properly.
You have no idea, bro.  Thanks for being a vessel for us to go to Jesus countless times.
What a blessing.
Brant Porter
Kentwood Community Church
Grand Rapids, MI
20  years with PraiseCharts
Happy Birthday, Dan! Thanks so much for your orchestral work over the years. Our church is a better place because of it and our brass players love "pasting the back wall" with some of your arrangements. Blessings!
Derek Miller
Mechanicsburg BIC
Mechanicsburg, PA
20  years with PraiseCharts
Hey Dan, happy 50th birthday!  I just wanted to drop a quick note to express how grateful I am for you and the gifts God has given you.  I am a 40-year-old musician who grew up singing and playing classical music but also performing in a traveling punk band.  That said, I love all types of music and I love incorporating classical instruments with the new music of today.  Your arrangements have been a life-saver for me and have allowed me to easily include all types of musicians in our worship services.  Your arrangements are very tasteful and help contribute to meaningful worship at our church.  Thanks again and keep up the good work!
Mike Middleton
Kenosha Bible Church
Kenosha, WI
10+  years with PraiseCharts
Dan, how the years have flown by! I remember enjoying getting your inquisitive phone calls in the early years of PC asking about copyright and publishing issues. You were (and still are) a fast learner! Your influence reaches hundreds if not thousands of churches every week and touches Bethany First nearly every Sunday. I'm glad to say "I remember when Dan...." Have a blessed and enjoyable birthday, my friend!
Harlan Moore
Bethany First Church
Bethany, OK
17-18  years with PraiseCharts
Hi Dan, I Just wanted to wish you blessings, favor and the kindness of the Lord on this landmark birthday of yours! I know your contribution to the Christian community in facilitating worship through the use of music is quite significant. I also know you bring a great deal of talent, guidance, and excellence to the overall picture. May your rewards be rich and this birthday memorable!
Wayne Yankie
New Song Christian Fellowship
Brentwood, TN
Dan, You've been a great source of arranging insight and Finale tips down through the years. Thank you so much for your patience with my questions (and foibles), and for helping me grow in my craft. You've been a great resource to my church ministries through the years as well. Glad to count you a friend! Happy birthday!
Grant Wall
Tocca, GA
15+  years with PraiseCharts
Congratulations on your 50th birthday! Your musical expression is a true inspiration to so many who have been inspired by your work. Wishing you continued success and an amazing year to come! (So glad we had the opportunity to connect in person at the PraiseCharts 20th celebration.)
Blessings on your special day!
Shelly Peterman
Jonesboro, AR
11  years with PraiseCharts
Happy 50th Birthday Dan! I love what you do and how you do it. Enjoy your day :)
Tabitha Culbertson
Fremont, OH
7+  years with PraiseCharts
Happiest birthday wishes on your 50th birthday! It is a pleasure to have worked with you these almost 20 years. I appreciate your dedication to your craft, and to the church. You are a treasure, and I am honored to know you. Blessings to you!
Natasha Fogg
Portland, OR
19+  years with PraiseCharts
Category: News