MainStage For Everyday Church Pianists
Do you love to play keys, but feel like modern technology has left you behind? We have designed WorshipKeys for you! WorshipKeys is a free MainStage template designed for everyday church pianists, so they can shine with confidence and sound just like the original recordings. Use it, modify it, upgrade it, customize it, and even download song specific patches from PraiseCharts.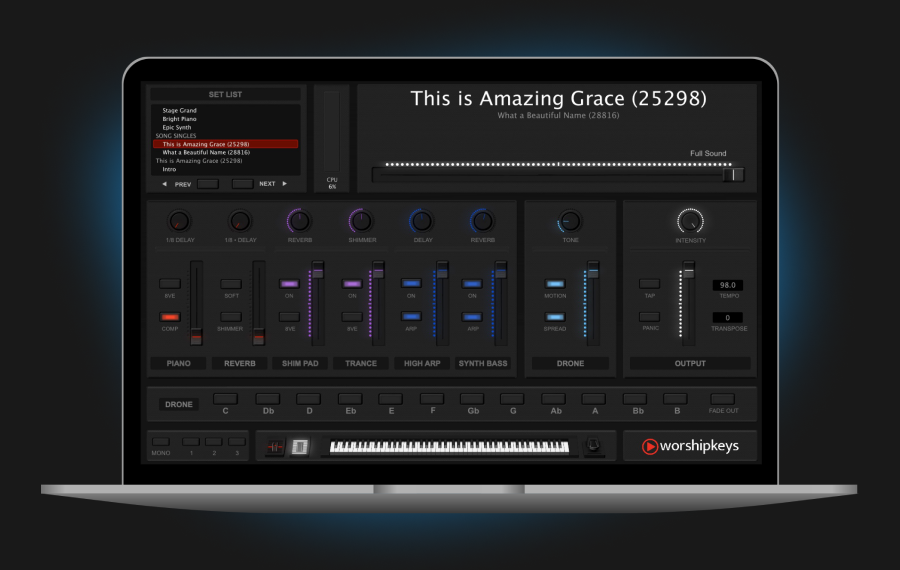 WORSHIPKEYS + nanoKONTROL2
A Match Made In Heaven
We designed WorshipKeys to work seamlessly with nanoKONTROL2, a slim line USB controller made by KORG. Use it to control every element of WorshipKeys in your live performance without touching your computer. Buy the nanoKONTROL2 for $80, and then get our Custom Skin for $10 (shipping included).

Our Secret Sauce
The OB-Xd Synthesizer Plugin
WorshipKeys only uses sounds and effects that come stock with MainStage, with the exception of the OB-Xd synth plugin. OB-Xd is used by many industry level producers. WorshipKeys uses OB-Xd for many patches to give your synth patches that epic sound! OB-Xd is free for non-commercial use. Simply download the Mac version and MainStage will automatically recognize the plugin. No additional setup is required. OB-Xd is free for non-commercial use.