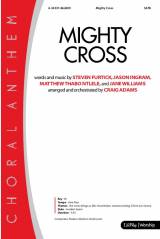 Mighty Cross (Choral Anthem SATB) Sheet Music PDF (Lifeway Choral / Arr. Craig Adams)
Mighty Cross (Choral Anthem SATB) Sheet Music PDF (Lifeway Choral / Arr. Craig Adams)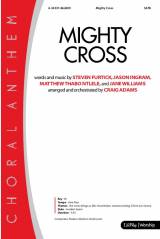 Mighty Cross (Choral Anthem SATB)
Lifeway Choral / Arr. Craig Adams
Anthem (SATB/Piano) Details
Download the PDF sheet music for Mighty Cross (Choral Anthem SATB) by Lifeway Choral / Arr. Craig Adams, from the album Easter Choral Anthems. This song was arranged by Craig Adams in the key of Bb.
| | |
| --- | --- |
| SongID | 80419 |
| Language | English |
| Album | Easter Choral Anthems |
| Artists | Lifeway Choral, Arr. Craig Adams |
| Authors | Jane Williams, Jason Ingram, Matthews Ntlele, Steven Furtick |
| Arrangers | Craig Adams |
| Publishers | Essential Music Publishing |
| CCLI Song No. | 7067580 |
| File Type | PDF |
| Pages | |
| Available Keys | Bb |
| Meter | 4/4 |
| Themes | Glory, Victory, Chains, Salvation, King, Strength, Weakness, Sorrow, Crown, Jesus Christ, Mighty, Death, Lent, Good Friday, Easter, Cross, Blood, Power, Redeemer, Praise, Savior |
Lyrics
Verse 1 On the day that death surrendered To the mighty cross of Jesus Christ The earth would shake beneath the weight Of darkened skies Verse 2 On His brow a crown of sorrow For a king whose weakness was our strength No word He spoke His love was shown For all to see Chorus O the cross of Jesus Christ Is the reason I'm alive For His blood has set me free It will never lose its power for me Verse 3 Now the dawn of resurrection Floods the night as hope prevails to shine Salvation wakes our chains to break And we arise Bridge Hallelujah hallelujah Christ my victory Hallelujah hallelujah It is won for me Verse 4 On the day He comes in glory To reveal the fullness of His reign All hearts will bow before the sound Of Jesus' name...
© Music by Elevation Worship Publishing, Open Hands Music, So Essential Tunes (Admin. by Essential Music Publishing LLC)
CCLI Song No. 7067580