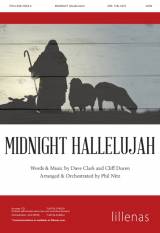 Midnight Hallelujah (Choral Anthem SATB) Orchestration (Lillenas Choral / Arr. Phil Nitz)
Midnight Hallelujah (Choral Anthem SATB) Orchestration (Lillenas Choral / Arr. Phil Nitz)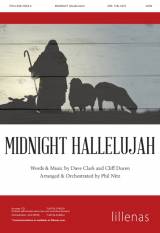 Midnight Hallelujah (Choral Anthem SATB)
Lillenas Choral / Arr. Phil Nitz
Orchestration (No Vocals) Details
Download the Orchestration for Midnight Hallelujah (Choral Anthem SATB) by Lillenas Choral / Arr. Phil Nitz, from the album Christmas Choral Anthems. This song was arranged by Phil Nitz in the key of F.
| | |
| --- | --- |
| SongID | 79720 |
| Language | English |
| Album | Christmas Choral Anthems |
| Artists | Lillenas Choral, Arr. Phil Nitz |
| Authors | Dave Clark, Cliff Duren |
| Arrangers | Phil Nitz |
| Publishers | Music Services |
| CCLI Song No. | 7085148 |
| Instruments | Piano, Keyboard, Guitars, Drums, Trumpet, Trombone, Tuba, French Horn, Violin, Viola, Cello, Keybaord Synth, Flute/Obo, Clarinet, Alto Sax, Tenor Sax |
| File Type | PDF |
| Pages | |
| Available Keys | F |
| Meter | 4/4 |
| Themes | Christmas, Hallelujah |
Lyrics
erse 1 When the sun went down on the hillside It was just like every night before The shepherds with their sheep Could never have dreamed What a silent night held in store They heard a sound they were not expecting Saw a light they didn't recognize At first they were afraid But everything changed When they saw it with their own eyes Chorus It was a midnight hallelujah in the heavens A host of angels singin' to some shepherds Fear not we've got good news Christ the Savior is born to you Even the stars stood in wonder At the sacred celebration It was a midnight hallelujah in the heavens Verse 2 Although the shepherds could not explain it Just to think that God had chosen them They had faith to believe Just what they would see as they set out for Bethlehem Bridge Hallelujah hallelujah hallelujah (3X)...
© 2016 PsalmSinger Music, Shakertown Road Music (Amin by Music Services)
CCLI Song No. 7085148