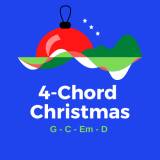 O Come O Come Emmanuel (4-Chord) Chords PDF (Traditional Carol)
O Come O Come Emmanuel (4-Chord) Chords PDF (Traditional Carol)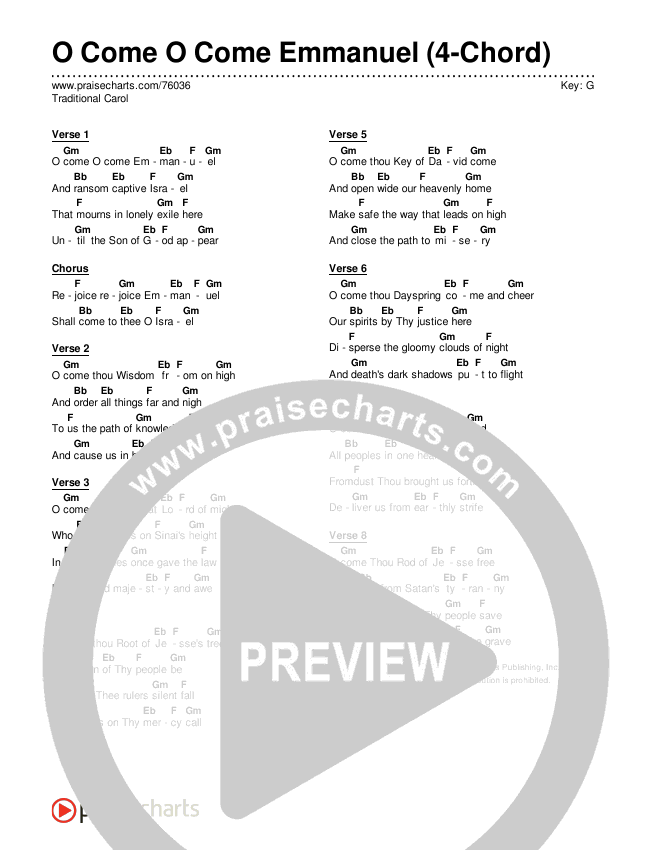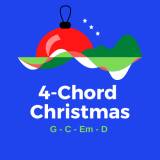 O Come O Come Emmanuel (4-Chord)
Traditional Carol
Chord Chart Details
Download the PDF Chord Charts for O Come O Come Emmanuel (4-Chord) by Traditional Carol, from the album 4-Chord Christmas (G-C-Em-D).
| | |
| --- | --- |
| SongID | 76036 |
| Language | English |
| Album | 4-Chord Christmas (G-C-Em-D) |
| Artists | Traditional Carol |
| Authors | Brad Henderson, Ryan Dahl, Tracey Dahl, Henry Coffin, John Mason Neale |
| Publishers | Hendersongs Music |
| CCLI Song No. | 5049934 |
| Instruments | Guitar, Ukelele, Piano |
| File Type | PDF |
| Pages | |
| Original Key | G |
| Available Keys | A, Ab, B, Bb, C, C#, D, Db, E, Eb, F, G, G#, Numbers, Numerals |
| Meter | |
| Themes | Abiding, Adoration, Blood, Christmas, Cleanse, Death, Desire, Emmanuel, Exaltation, Grace, Heart, Peace, Praise, Throne, Worship, Reign, Mourning, Ransom, Loneliness, Christmas Eve, Traditional, Advent, Christmas Carol |
Lyrics
Verse 1 O come O come Emmanuel And ransom captive Israel That mourns in lonely exile here Until the Son of God appear Chorus Rejoice rejoice Emmanuel Shall come to thee O Israel Verse 2 O come thou Wisdom from on high And order all things far and nigh To us the path of knowledge show And cause us in her ways to go Verse 3 O come O come great Lord of might Who to Thy tribes on Sinai's height In ancient times once gave the law In cloud and majesty and awe Verse 4 O come thou Root of Jesse's tree An ensign of Thy people be Before Thee rulers silent fall All peoples on Thy mercy call Verse 5 O come thou Key of David come And open wide our heavenly home Make safe the way that leads on high And close the path to misery Verse 6 O come thou Dayspring come and cheer Our spirits by Thy justice here Disperse the gloomy clouds of night And death's dark shadows put to flight Verse 7 O come Desire of nations bind All peoples in one heart and mind Fromdust Thou brought us forth to life Deliver us from earthly strife Verse 8 O come Thou Rod of Jesse free Thine own from Satan's tyranny From depths of hell Thy people save And give them victory o'er the grave...
© 2007 Hendersongs (admin by PraiseCharts Publishing, Inc.)
CCLI Song No. 5049934
Other Arrangements of This Song