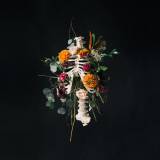 The Blessing (Live) Fractal FM9 Preset (Elevation Worship / Kari Jobe / Cody Carnes)
The Blessing (Live) Fractal FM9 Preset (Elevation Worship / Kari Jobe / Cody Carnes)
Fractal FM9 Patch Details
These patches were created based on guitar sounds from the original recordings of popular Praise & Worship songs. Download matching chords, vocal and lead sheet music, multi tracks, and additional modeler patches. Find more song specific guitar patches at PraiseCharts.com/patches for Line 6 Helix, Line 6 HX Stomp, Line 6 Pod GO, Kemper, Neural DSP Quad Cortex (when available,) Fractal Axe-FX III and Fractal FM3.
Setup
Make sure that you have upgraded to the latest firmware on both Axe-Edit III/FM3-Edit as well as your Axe-FX III/FM3 unit before installing this patch. Our patches were designed around the output knobs on both devices being at max volume. Use the output block at the end of the signal chain to gainstage with your other patches.
Installation
Download the free editing software,

Axe-Edit III

or

FM3-Edit

from Fractal.

Download the free updating software,

Fractal-Bot

from Fractal.

Download the latest firmware for your

Axe-Fx III

or

FM3

from the fractal forum. It should be at the top of the page.

Unzip the downloaded firmware

Connect your Axe-Fx III or FM3 using a USB-A to USB-B cable.

Using Fractal-Bot, select your device, and then select the recently downloaded firmware. Follow the on screen prompts to update your device.

Once updated, open Axe-Edit/FM3-Edit and click the "PRESETS" button.

Click the green "MANAGE" box on the bottom right corner of the screen

Drag and drop our patch into any available preset.



Pedalboard Mode
Our patches were designed to be used in Scene mode (Perform 1), but can also be used in Pedalboard mode (Perform 2) for those who are using an Axe-FX III with an FC 12 controller and would like a little more freedom during a song. Find additional information in the Read Me document in your PraiseCharts product download file.

Scene Mode

Scene mode includes custom effect mappings designed to recreate the exact tones used in modern Praise & Worship songs. The first six scenes will be mapped to individual sections of the songs, whereas scenes 7 and 8 will always be labeled as "clean" and "swells."
Tone Tweeks

This patch was created using a PRS® Custom 24 guitar, using Lambertones® Pickups, a PRS® Silver Sky, and a Fender American Professional Telecaster. Feel free to adjust any EQ block, or amp EQ in order to better suit your guitar, and your playing style.
Song Details
| | |
| --- | --- |
| SongID | 74573 |
| Language | English |
| Album | Graves Into Gardens |
| Artists | Elevation Worship, Kari Jobe, Cody Carnes |
| Authors | Cody Carnes, Chris Brown, Steven Furtick, Kari Jobe Carnes |
| Publishers | Capitol CMG, Essential Music Publishing |
| CCLI Song No. | 7147007 |
| Tempo | Slow |
| Instruments | Electric Guitar |
| File Type | |
| Pages | |
| Original Key | B |
| Meter | 4/4 |
| Theme | Anxiety, Baptism, Benediction, Blessing, Children, Encouragement, Family, Father's Day, Grace, Joy, Mother's Day, Peace, Presence, Sorrow, Thanksgiving, Wedding, Generation, Grace, Graduation |
Lyrics
Verse 1 The Lord bless you and keep you Make His face shine upon you and be gracious to you The Lord turn His face toward you And give you peace Chorus 1 Amen, Amen, Amen Amen, Amen, Amen Chorus 2 Amen, Amen, Amen Amen, Amen, Amen Bridge 1 May His favor be upon you and a thousand generations And your family and your children and their children and their children Bridge 2 May His presence go before you and behind you and beside you All around you and within you, He is with you, He is with you Bridge 3 In the morning, in the evening, in Your coming and your going In your weeping and rejoicing, He is for you, He is for you Bridge 4 He is for you, He is for you, He is for you, He is for you He is for you, He is for you, yeah Bridge 5 He is for you, He is for you, He is for you, He is for you He is for you, He is for you, He is for you, He is for you...
© 2020 Writers Capitol CMG Paragon, Writers Roof Publishing, Worship Together Music, Kari Jobe Carnes Music (Admin by Capitol CMG Publishing) Music by Elevation Worship Publishing (Admin at Essential Music Publishing).
CCLI Song No. 7147007