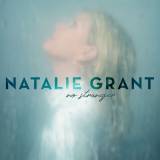 My Weapon Chords PDF (Natalie Grant)
My Weapon Chords PDF (Natalie Grant)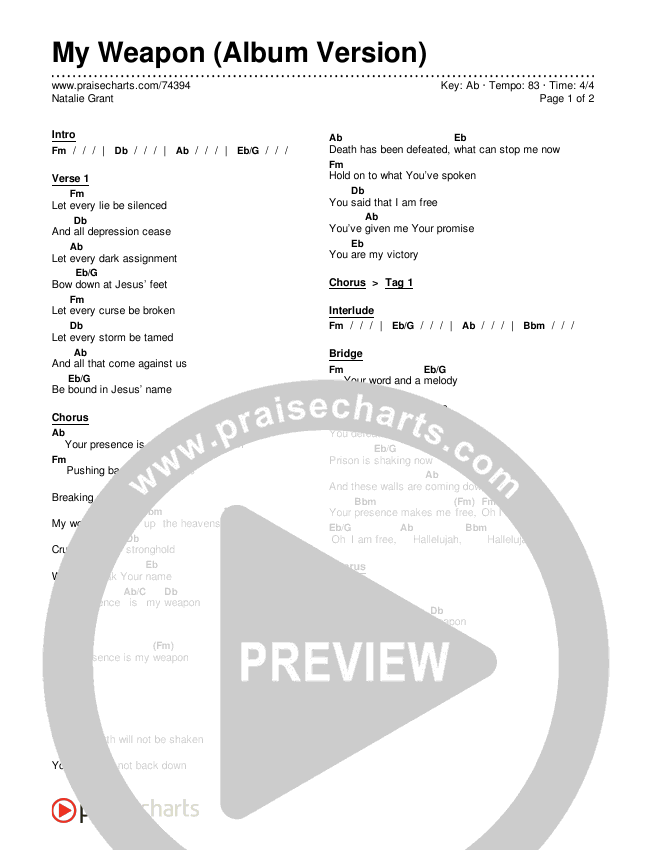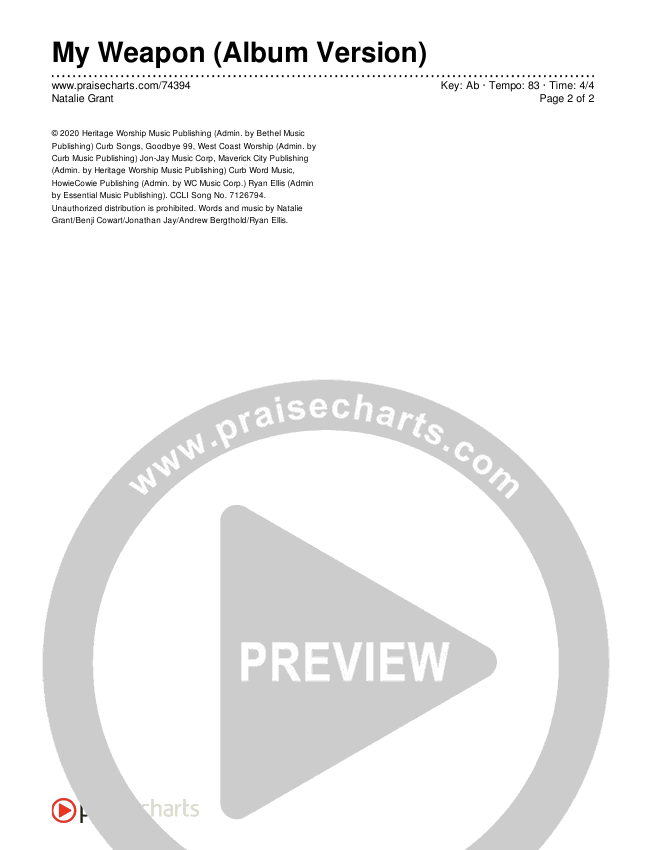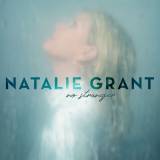 Chords & Lyrics (Editable) Details
Download the PDF Chord Charts for My Weapon by Natalie Grant, from the album No Stranger. This song was arranged by Lee Marcum in the key of Ab, G.
| | |
| --- | --- |
| SongID | 74394 |
| Language | English |
| Album | No Stranger |
| Artists | Natalie Grant |
| Authors | Natalie Grant, Benji Cowart, Jonathan Jay, Andrew Bergthold, Ryan Ellis |
| Arrangers | Lee Marcum |
| Publishers | Curb/Word Music, Music Services, Bethel Music, Curb Music Publishing |
| CCLI Song No. | 7126794 |
| Instruments | Guitar, Ukelele, Piano |
| File Type | PDF |
| Pages | |
| Original Key | Ab |
| Available Keys | A, Ab, B, Bb, C, C#, D, Db, E, Eb, F, F#, G, G#, Gb, Numbers, Numerals |
| Meter | 4/4 |
| Themes | Belief, Breakthrough, Storm, Captive, Protection, Intercession, Hallelujah, Promise, Love of God, Strength, Weapon, Worship, Victory, Power, Presence, Freedom |
Lyrics
Verse 1 Let every lie be silenced and all depression cease Let every dark assignment bow down at Jesus' feet Let every curse be broken, let every storm be tamed And all that come against us, be bound in Jesus' name Chorus Your presence is my greatest weapon Pushing back the darkness, breaking every chain My worship opens up the heavens Crushing every stronghold, when I speak Your name Your presence is my weapon Tag 1 Your presence is my weapon Verse 2 Your strength will not be shaken, Your love will not back down Death has been defeated, what can stop me now Hold on to what You've spoken, You said that I am free You've given me Your promise, You are my victory Bridge Your word and a melody, are making a way for me You defeat the enemy, this prison is shaking now and these walls are coming down Your presence makes me free, Oh I am free Oh I am free, Hallelujah, Hallelujah Tag 2 Your presence is my weapon, Your presence is my weapon...
© 2020 Heritage Worship Music Publishing (Admin. by Bethel Music Publishing) Curb Songs, Goodbye 99, West Coast Worship, Curb Word Music, HowieCowie Publishing (Admin. by Curb Music Publishing) Jon-Jay Music Corp, Maverick City Publishing (Admin. by Heritage Worship Music Publishing) Ryan Ellis (Admin by Essential Music Publishing)
CCLI Song No. 7126794
Other Arrangements of This Song