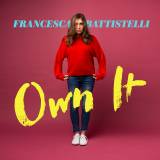 This Could Change Everything Sheet Music PDF (Francesca Battistelli)
This Could Change Everything Sheet Music PDF (Francesca Battistelli)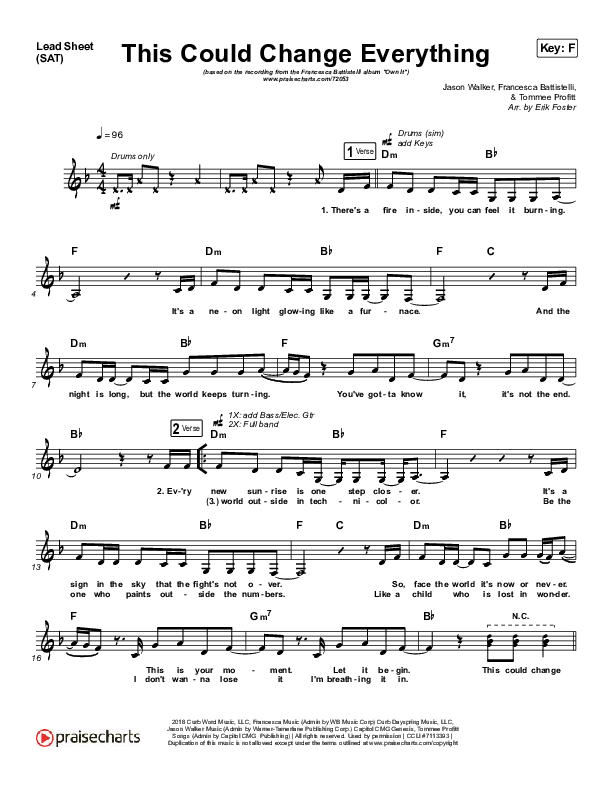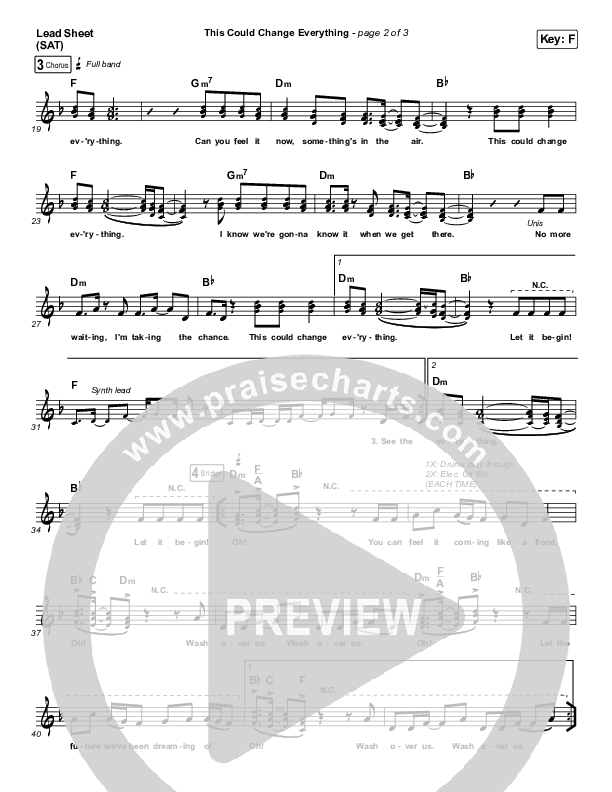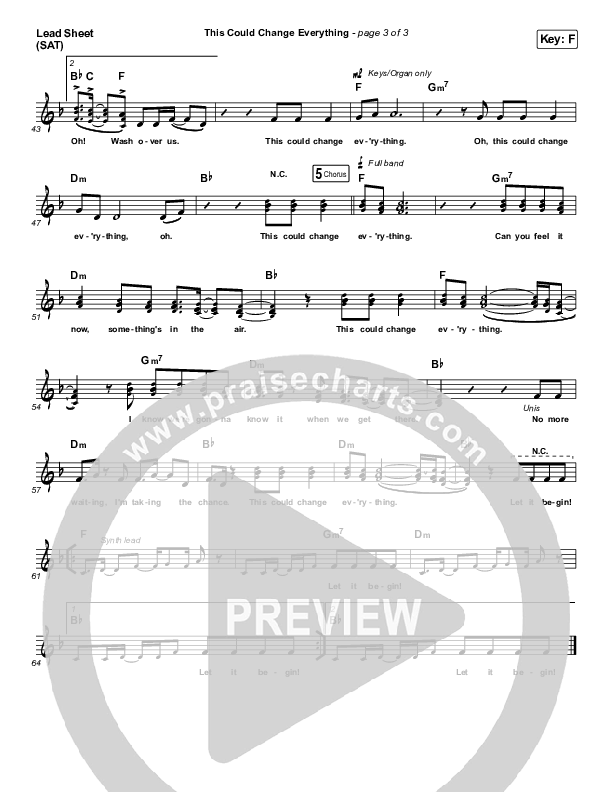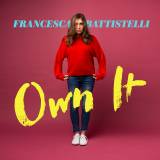 This Could Change Everything
Francesca Battistelli
Lead Sheet (SAT) Details
Download the sheet music for This Could Change Everything by Francesca Battistelli, from the album Own It. This song was arranged by Erik Foster in the key of F, G.
| | |
| --- | --- |
| SongID | 72053 |
| Language | English |
| Album | Own It |
| Artists | Francesca Battistelli |
| Authors | Francesca Battistelli, Jason Walker, Tommee Profitt |
| Arrangers | Erik Foster |
| Publishers | Curb/Word Music, Capitol CMG, Curb Music Publishing |
| CCLI Song No. | 7113393 |
| Instruments | Piano, Guitar |
| File Type | PDF |
| Pages | |
| Original Key | F |
| Available Keys | F, G |
| Meter | 4/4 |
| Themes | Future, Flood, Commitment, Wonder, Change, Fire |
Lyrics
Verse 1 There's a fire inside, you can feel it burning It's a neon light glowing like a furnace And the night is long, but the world keeps turning You gotta know it, it's not the end Verse 2 Every new sunrise is one step closer It's a sign in the sky, that the fight's not over So face the world, it's now or never This is your moment, let it begin Chorus This could change everything Can you feel it now, something's in the air This could change everything I know we're gonna know it, when we get there No more waiting, I'm taking the chance This could change everything, let it begin Verse 3 See the world outside in technicolor Be the one who paints outside the numbers Like a child who is lost in wonder I don't wanna lose it, I'm breathing it in Bridge Ohohoh, you can feel it coming like a flood Ohohoh, wash over us, wash over us Ohohoh, let the future we've been dreaming of Ohohoh, wash over us (wash over us) Tag This could change everything Oh, this could change everything, oh...
© 2018 Curb Word Music, LLC, Francesca Music, Curb Dayspring Music, LLC, Jason Walker Music (Admin by Curb Music) Capitol CMG Genesis, Tommee Profitt Songs (Admin by Capitol CMG Publishing)
CCLI Song No. 7113393