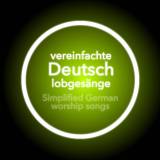 Du Lebst In Uns (Simplified) Chords PDF
Du Lebst In Uns (Simplified) Chords PDF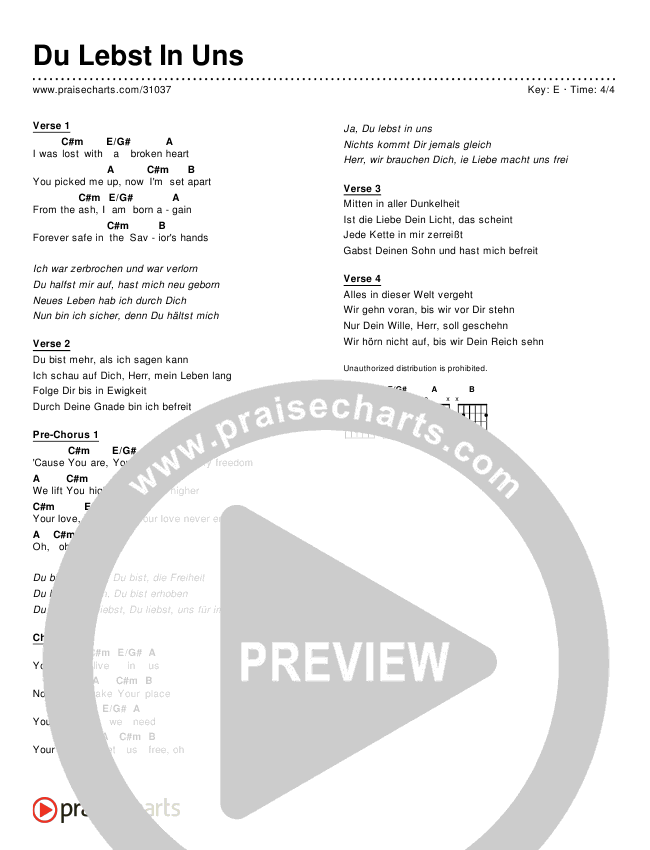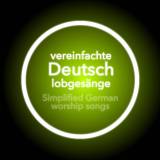 Du Lebst In Uns (Simplified)
Chords & Lyrics (Editable) Details
Download the PDF Chord Charts for Du Lebst In Uns (Simplified), from the album Vereinfachte Deutsch Lobgesänge.
| | |
| --- | --- |
| SongID | 31037 |
| Language | German |
| Album | Vereinfachte Deutsch Lobgesänge |
| Authors | Aodhan King, Alexander Pappas |
| Publishers | Hillsong Music |
| CCLI Song No. | 6605212 |
| Instruments | Guitar, Ukelele, Piano |
| File Type | PDF |
| Pages | |
| Original Key | E |
| Available Keys | A, Ab, B, Bb, C, C#, D, Db, E, Eb, F, F#, G, G#, Gb, Numbers, Numerals |
| Meter | |
| Themes | Youth Worship, Exaltation, Grace, Adoration, Savior, Easter, Salvation, Freedom, Identity, Indwelling |
Lyrics
Verse 1 I was lost with a broken heart, You picked me up, now I'm set apart From the ash, I am born again, forever safe in the Savior's hands #Ich war zerbrochen und war verlorn, du halfst mir auf, hast mich neu geborn #Neues Leben hab ich durch Dich, nun bin ich sicher, denn Du hältst mich Verse 2 Du bist mehr, als ich sagen kann, ich schau auf Dich, Herr, mein Leben lang Folge Dir bis in Ewigkeit, durch Deine Gnade bin ich befreit Pre-Chorus 1 'Cause You are, You are, You are my freedom, we lift You higher, lift You higher Your love, Your love, Your love never ending, oh, oh, oh #Du bist, Du bist, Du bist, die Freiheit, du bist erhoben, Du bist erhoben #Du liebst, Du liebst, Du liebst, uns für immer Chorus You are alive in us, nothing can take Your place You are all we need, Your love has set us free, oh #Ja, Du lebst in uns, nichts kommt Dir jemals gleich #Herr, wir brauchen Dich, ie Liebe macht uns frei Verse 3 Mitten in aller Dunkelheit, ist die Liebe Dein Licht, das scheint Jede Kette in mir zerreißt, gabst Deinen Sohn und hast mich befreit Verse 4 Alles in dieser Welt vergeht, wir gehn voran, bis wir vor Dir stehn Nur Dein Wille, Herr, soll geschehn, wir hörn nicht auf, bis wir Dein Reich sehn...
© 2012 Hillsong Music Publishing
CCLI Song No. 6605212
Other Arrangements of This Song