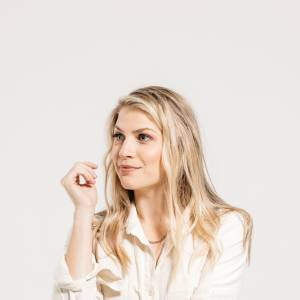 About
Jillian Edwards' voice is a time machine, transporting listeners to another time and place entirely. Whether she's drifting through a daydream or reflecting on the intricacies of what it means to be human, Edwards changes the scene with a singular note. Her latest endeavor ushers in a fresh setting—one filled with lush grass, quiet streams and vibrant wild flowers. With music ready-made for rest, solitude and comfort, Edwards invites listeners into a state of abiding on her new EP, Meadow.
As her first collection of original music in more than five years, Meadow mirrors the season in which the majority of the songs were written. "The first time I felt an urgency and a vision for what my next collection of songs would be, my heart was filling up with songs that were a response to both faith-shaking moments and faith-solidifying moments in life. I've seen circumstances bring suffering and pain, but I've also seen healing and hope in those places. I wanted to give language to those moments."
Taking a page from Psalm 23, the title track sets the tone for the entire EP. "This song feels like coming face-to-face with the kindness and tenderness of God and really believing it, being nourished by it and letting that fuel the way I live my life," Edwards shares. "It's the setting of that secret place of abundance, of abiding with God. That inward life of Christ that you draw from, that richness; you draw from that when you are in the valley. When the seasons come where there is suffering, there's also unspeakable joy, because you have that fountain to draw from, always."
The songs that makeup Meadow do just that. Like a healing balm, the gentle tracks lovingly point to hope in the midst of trials, anchored by a God who brings peace that passes all understanding.
The faith-filled selections on Meadow are a natural extension of the Dallas-native's body of work, which has always carried an undercurrent of hope. Her musically-inclined parents inspired all four of their children, including Edwards and her twin brother, to write and play music. When Edwards picked up a guitar for the first time as a teenager, she felt like writing songs was made for her. But it was really during college, at Baylor University, when she began capturing the attention of a broader audience with her thoughtful lyrics and charming voice as she traveled across her home state of Texas singing her own songs.
For more than a decade, Edwards—who now resides in Nashville with her husband, Will, drummer for indie rock band Colony House, and their daughter, Willow Faye—has consistently written and recorded music through the lens of faith, even when she's crafting songs about love and relationships or writing songs specifically for film and television.
Now, Meadow gives the singer/songwriter the opportunity to once again wear her heart on her sleeve. An ardent advocate for collaboration, Edwards co-wrote these new songs with kindred spirits David Leonard, Jonathan Smith, Peter Groenwald, Josh Bronleewe, Tony Wood and Jessie Early. Produced by Lucas Morton and executive produced by five-time GRAMMY® Award-winning artist Steven Curtis Chapman, Edwards' father-in-law, Meadow marries imagery-rich lyrics with her pure, golden voice—ethereal in its timbre and comforting in its cadence. Moreover, the words that fill these new tracks embody perhaps the truest iteration of the artist herself.