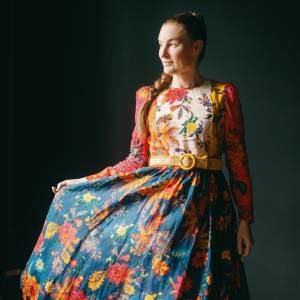 About
Charity houses a powerful voice that has a fresh yet reminiscent sound. She loves the Lord with fierce faith and was raised in a home full of worship and has been involved in ministry since she was a child. Growing up in Buffalo, NY, Charity was a part of a culture that thrives in the spirit of unity while celebrating diversity. Surrounded by worship and the Word, her love for praising Jesus through music grew as she did. One of her favorite things growing up was watching her mom direct the choir at Thursday night choir practice, and by the age of 16, she was directing multiple choirs herself. "I love harmonies in gospel music. I think about Heaven being full of every type of voice from every nation, finding their part and praising God at the top of their lungs together around the Throne."
She spent two years in Nashville in 2014 and 2015 where she fell more in love with the art of writing songs for the church. Focusing on bridging the gap between worship and gospel music, she has authored songs like Amen, Psalm 100 (Enter In), Cleansed, and New Name Written Down in Glory.
Charity lives and leads worship with her husband Ryan Kennedy. They are cultivating a movement for 24-hour prayer and worship in Houston, TX called GatherHouse, and are continuing to write and spread the gospel in the US and globally.