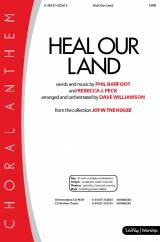 Heal Our Land (Choral Anthem SATB) Orchestration (Lifeway Choral / Arr. Dave Williamson)
Heal Our Land (Choral Anthem SATB) Orchestration (Lifeway Choral / Arr. Dave Williamson)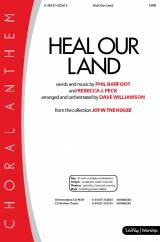 Heal Our Land (Choral Anthem SATB)
Lifeway Choral / Arr. Dave Williamson
Orchestration (No Vocals) Details
Download the Orchestration for Heal Our Land (Choral Anthem SATB) by Lifeway Choral / Arr. Dave Williamson, from the album Patriotic Choral Anthems. This song was arranged by Dave Williamson in the key of Bb.
| | |
| --- | --- |
| SongID | 80537 |
| Language | English |
| Album | Patriotic Choral Anthems |
| Artists | Lifeway Choral, Arr. Dave Williamson |
| Authors | Phil Barfoot, Rebecca J. Peck |
| Arrangers | Dave Williamson |
| CCLI Song No. | 4827243 |
| Instruments | Piano, Keyboard, Guitars, Drums, Trumpet, Trombone, Tuba, French Horn, Violin, Viola, Cello, Keybaord Synth, Flute/Obo, Clarinet, Alto Sax, Tenor Sax |
| File Type | PDF |
| Pages | |
| Available Keys | Bb |
| Meter | 4/4 |
| Themes | Patriotic, Strength, Prayer, Power, Healing |
Lyrics
Verse 1 Broken hurting tired and worn The heart of our great nation's torn By careless choices we have made That took us far from You Lord bring us back to our first Love Let Your Spirit move Chorus Heal our land Lord Hear Your people pray As we seek Your Face Turn from our wicked ways Heal our land Lord We need Your Strength and Power In this final hour Reach out Your Hand Heal our land Verse 2 Destined chosen we are called To light the darkness give our all To bind the wounded share Your Love Fall on our knees and pray We humbly seek forgiveness Lord Pour out Your Grace today Bridge We boldly bow before Your Throne And we are not ashamed To ask You for revival Lord We come in Jesus' Name...
© 2007 Paradise View Publishing (admin. by CCT Music), Thomas Peck Music (admin. by Thomas Peck Music)
CCLI Song No. 4827243