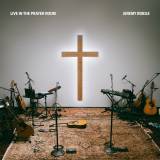 We Crown You Chords PDF (Jeremy Riddle)
We Crown You Chords PDF (Jeremy Riddle)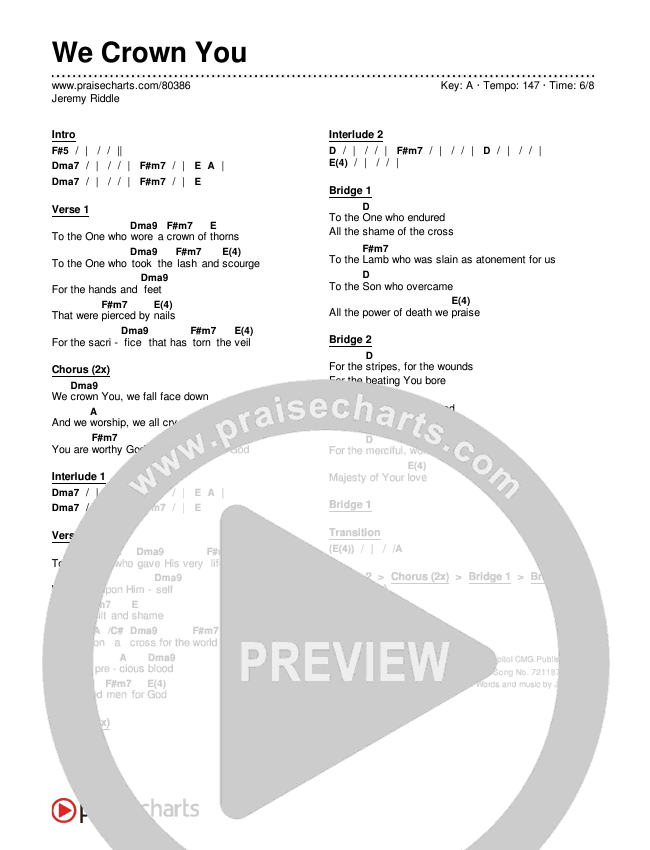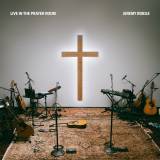 We Crown You
Jeremy Riddle
Chords & Lyrics (Editable) Details
Download the PDF Chord Charts for We Crown You by Jeremy Riddle, from the album Live In The Prayer Room.
| | |
| --- | --- |
| SongID | 80386 |
| Language | English |
| Album | Live In The Prayer Room |
| Artists | Jeremy Riddle |
| Authors | Jeremy Riddle, Lindy Cofer, Tayla Rede |
| Publishers | Capitol CMG |
| CCLI Song No. | 7211875 |
| Tempo | Med Slow |
| Instruments | Guitar, Ukelele, Piano |
| File Type | PDF |
| Pages | |
| Original Key | A |
| Available Keys | A, Ab, B, Bb, C, C#, D, Db, E, Eb, F, F#, G, G#, Gb, Numbers, Numerals |
| Meter | 6/8 |
| Themes | Mercy, Majesty, Kingship, Justice, Glory, Cross, Foundation, Savior, Sacrifice, Lamb Of God, Passion, Strength, Victory, Truth, Son of God, Faith, Worship, Lordship, Bible, Worthy, Exaltation, Communion, Ascension, Adoration |
Lyrics
Verse 1 To the One who wore a crown of thorns To the One who took the lash and scourge For the hands and feet that were pierced by nails For the sacrifice that has torn the veil Chorus We crown You, we fall face down and we worship, we all cry out You are worthy God, You are worthy, God Verse 2 To the One who gave His very life away Who took upon Himself, all our guilt and shame Hanging on a cross for the world He loved With His precious blood, purchased men for God Bridge 1 To the One who endured all the shame of the cross To the Lamb who was slain as atonement for us To the Son who overcame all the power of death we praise Bridge 2 For the stripes, for the wounds, for the beating You bore For the tears, for the blood that was willingly poured For the merciful, wonderful, majesty of Your love...
© 2022 Lindy Cofer Publishing (Admin by Capitol CMG Publishing), Wholehearted Ministries, Tayla Rede
CCLI Song No. 7211875