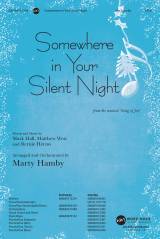 Somewhere In Your Silent Night (Choral Anthem SATB) Orchestration (Word Music Choral / Arr. Marty Hamby)
Somewhere In Your Silent Night (Choral Anthem SATB) Orchestration (Word Music Choral / Arr. Marty Hamby)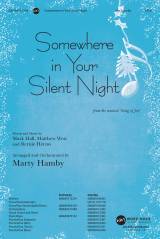 Somewhere In Your Silent Night (Choral Anthem SATB)
Word Music Choral / Arr. Marty Hamby
Orchestration (No Vocals) Details
Download the Orchestration for Somewhere In Your Silent Night (Choral Anthem SATB) by Word Music Choral / Arr. Marty Hamby, from the album Christmas Choral Anthems. This song was arranged by Marty Hamby in the key of D.
| | |
| --- | --- |
| SongID | 80089 |
| Language | English |
| Album | Christmas Choral Anthems |
| Artists | Word Music Choral, Arr. Marty Hamby |
| Authors | Mark Hall, Matthew West, Bernie Herms |
| Arrangers | Marty Hamby |
| Publishers | Hal Leonard, Essential Music Publishing |
| CCLI Song No. | 7101254 |
| Instruments | Piano, Keyboard, Guitars, Drums, Trumpet, Trombone, Tuba, French Horn, Violin, Viola, Cello, Keybaord Synth, Flute/Obo, Clarinet, Alto Sax, Tenor Sax |
| File Type | PDF |
| Pages | |
| Available Keys | D |
| Meter | 4/4 |
| Themes | Christmas |
Lyrics
Verse 1 All is calm and all is bright Everywhere but in your heart tonight They're singing carols of joy and peace But you feel too far gone and too far out of reach Chorus Somewhere in your silent night Heaven hears the song your broken heart has cried Hope is here just lift your head For love has come to find you Somewhere in your silent night (Love will find you) Verse 2 From heaven's height to manger low There is no distance the Prince of Peace won't go From manger low to Calvary's hill When your pain runs deep His love runs deeper still He has always loved you child And He always will Bridge Lift your head lift your heart Emmanuel will meet you where you are He knows your hurt He knows your name And you're the very reason that He came Ending Love will find you Love will find you...
© 2017 My Refuge Music, Be Essential (Admin by Essential Music Publishing) Atlas Music Publishing, Highly Combustible Music, House of Story MusicSongs of Universal, Inc., G650 Music, Pure Note Music (Admin by Hal Leonard)
CCLI Song No. 7101254
Other Arrangements of This Song