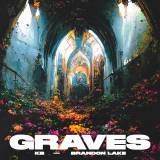 Graves Chords PDF (KB / Brandon Lake)
Graves Chords PDF (KB / Brandon Lake)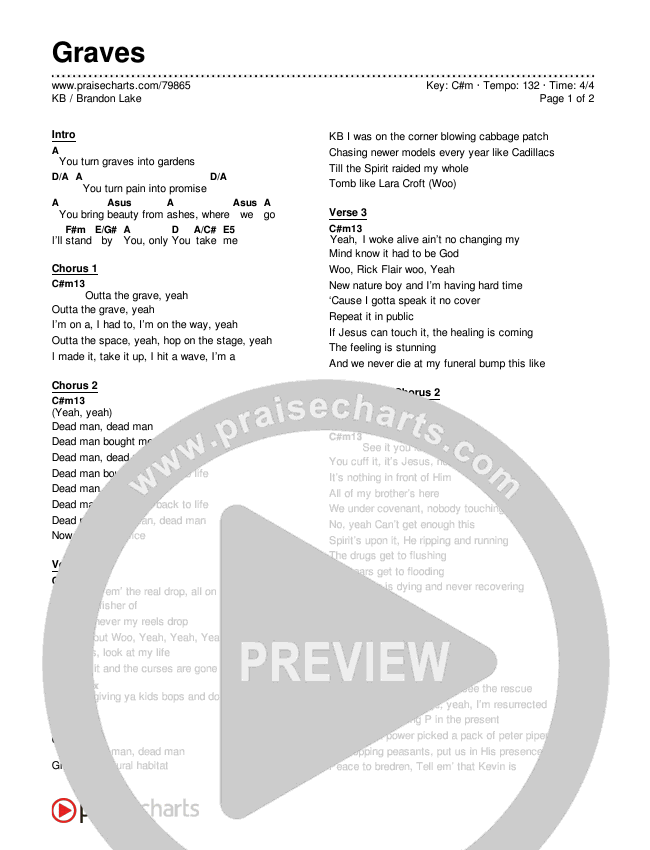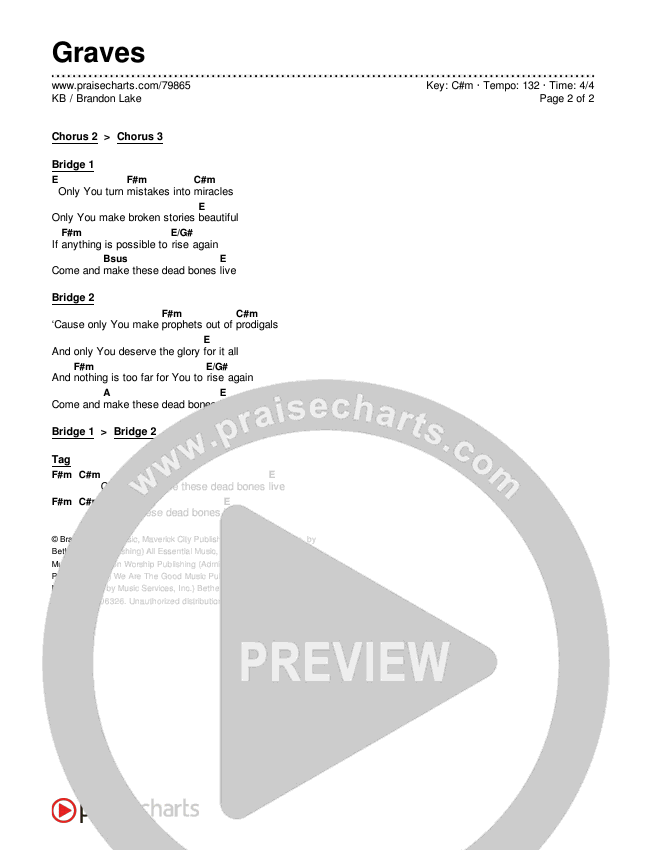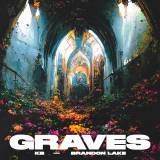 Chords & Lyrics (Editable) Details
Download the PDF Chord Charts for Graves by KB / Brandon Lake, from the album Graves.
| | |
| --- | --- |
| SongID | 79865 |
| Language | English |
| Album | Graves |
| Artists | KB, Brandon Lake |
| Authors | Chris Brown, Steven Furtick, Kevin Burgess, Brandon Lake, Tiffany Hudson, Quinten Coblentz, Wes Writer |
| Publishers | Essential Music Publishing, Music Services, Bethel Music |
| CCLI Song No. | 7206326 |
| Tempo | Med Fast |
| Instruments | Guitar, Ukelele, Piano |
| File Type | PDF |
| Pages | |
| Original Key | C#m |
| Available Keys | Am, Bbm, Bm, C#m, Cm, D#m, Dm, Ebm, Em, F#m, Fm, G#m, Gm, Numbers, Numerals |
| Meter | 4/4 |
| Themes | Restoration, Renewal, Life |
Lyrics
Intro You turn graves into gardens, You turn pain into promise You bring beauty from ashes, where we go I'll stand by You, only You take me Chorus 1 Outta the grave, yeah, outta the grave, yeah I'm on a, I had to, I'm on the way, yeah Outta the space, yeah, hop on the stage, yeah I made it, take it up, I hit a wave, I'm a Chorus 2 (Yeah, yeah) Dead man, dead man, dead man bought me back to life Dead man, dead man, dead man bought me back to life Dead man, dead man, dead man bought me back to life Dead man, dead man, dead man, now I'm living twice Verse 1 Tell em' the real drop, all on the gram I'm just a fisher of man whenever my reels drop Handing out Woo, Yeah, Yeah, Yeah, Yeah Big shots, look at my life, remade it and the curses are gone Now I'm giving ya kids bops and don't stop Verse 2 Uh dead man, dead man, grave my natural habitat KB I was on the corner blowing cabbage patch Chasing newer models every year like Cadillacs Till the Spirit raided my whole tomb like Lara Croft (Woo) Verse 3 Yeah, I woke alive ain't no changing my mind know it had to be God Woo, Rick Flair woo, Yeah, new nature boy and I'm having hard time 'Cause I gotta speak it no cover, repeat it in public If Jesus can touch it, the healing is coming, the feeling is stunning And we never die at my funeral bump this like Verse 4 See it you love it, you need it, you cuff it, it's Jesus, no frontin' It's nothing in front of Him, all of my brother's here We under covenant, nobody touching us No, yeah Can't get enough this, Spirit's upon it, He ripping and running The drugs get to flushing, the tears get to flooding The old me is dying and never recovering Verse 5 Ooh, yeah, K to the second, but no second guessing, look this is how Lazarus Sound on a record, like you see the rescue, but I saw the wreckage, yeah, I'm resurrected I know, I'm pushing P in the present, the perfect power picked a pack of peter piper Pill popping peasants, put us in His presence, peace to bredren, Tell em' that Kevin is Bridge 1 Only You turn mistakes into miracles Only You make broken stories beautiful If anything is possible to rise again Come and make these dead bones live Bridge 2 'Cause only You make prophets out of prodigals And only You deserve the glory for it all And nothing is too far for You to rise again Come and make these dead bones live Tag Come and make these dead bones live Make these dead bones live...
© Brandon Lake Music, Maverick City Publishing Worldwide (Admin. by Bethel Music Publishing) All Essential Music, HGA Native Songs, Music by Elevation Worship Publishing (Admin. by Essential Music Publishing LLC) We Are The Good Music Publishing, Wes the Writer Music (Admin. by Music Services, Inc.) Bethel Music Publishing
CCLI Song No. 7206326