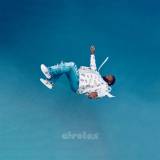 all god's children Chords PDF (Dante Bowe)
all god's children Chords PDF (Dante Bowe)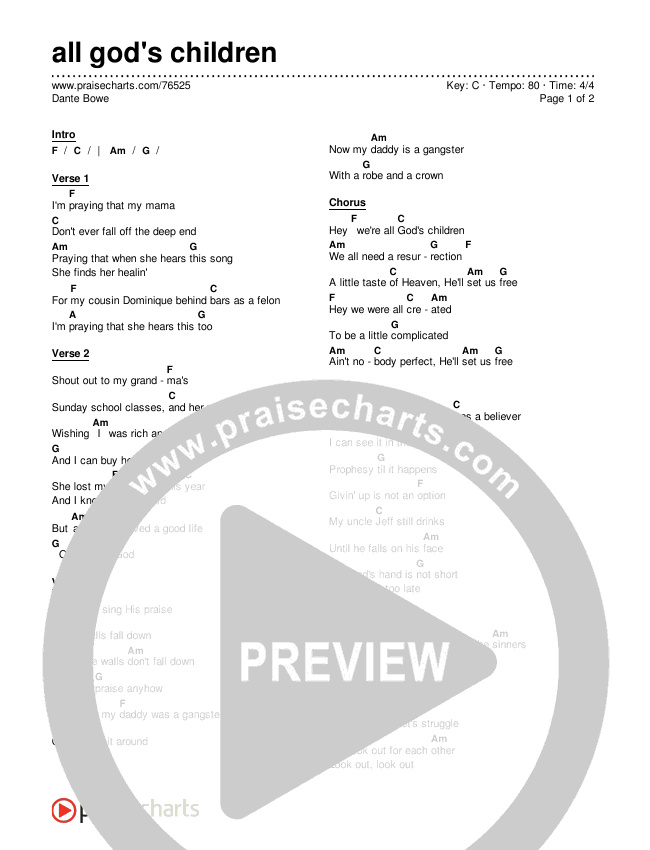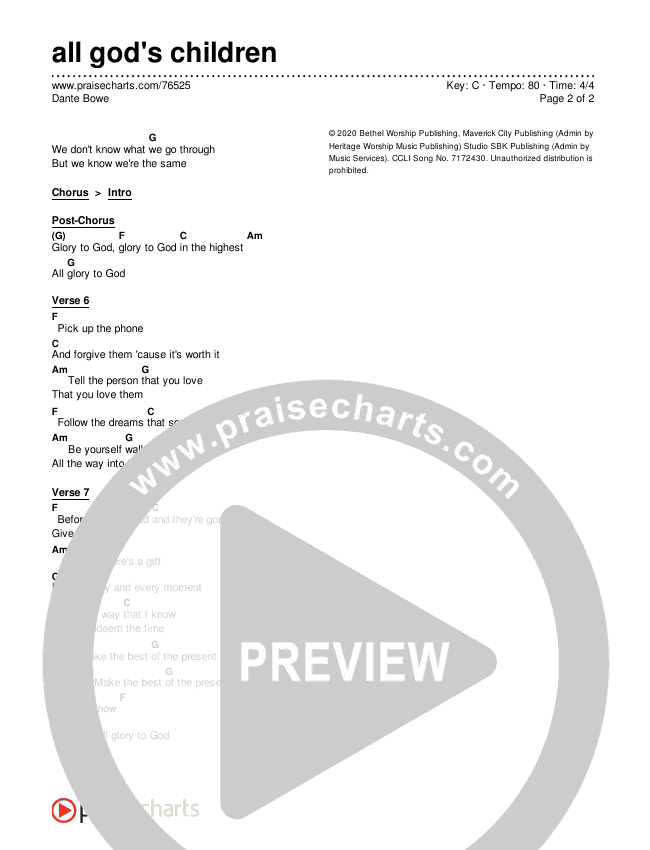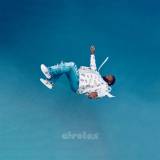 all god's children
Dante Bowe
Chords & Lyrics (Editable) Details
Download the PDF Chord Charts for all god's children by Dante Bowe, from the album circles.
| | |
| --- | --- |
| SongID | 76525 |
| Language | English |
| Album | circles |
| Artists | Dante Bowe |
| Authors | Blake Kanicka, Dante Bowe |
| Publishers | Music Services, Bethel Music |
| CCLI Song No. | 7172430 |
| Instruments | Guitar, Ukelele, Piano |
| File Type | PDF |
| Pages | |
| Original Key | C |
| Available Keys | A, Ab, B, Bb, C, C#, D, Db, E, Eb, F, F#, G, G#, Gb, Numbers, Numerals |
| Meter | |
Lyrics
Verse 1 I'm praying that my mama don't ever fall off the deep end Praying that when she hears this song, she finds her healin' For my cousin Dominique behind bars as a felon I'm praying that she hears this too Verse 2 Shout out to my grandma's Sunday school classes, and her readin' glasses Wishing I was rich and famous and I can buy her houses She lost my grandpapa this year and I know that it's hard But at least he lived a good life, oh glory to God Verse 3 Yahweh sing His praise 'til the walls fall down And if the walls don't fall down, sing His praise anyhow You know my daddy was a gangster, God turned it around Now my daddy is a gangster with a robe and a crown Chorus Hey we're all God's children, we all need a resurrection A little taste of Heaven, He'll set us free Hey we were all created to be a little complicated Ain't nobody perfect, He'll set us free Verse 4 Oh my brother told me he was a believer I can see it in the future, prophesy til it happens Givin' up is not an option My uncle Jeff still drinks until he falls on his face But God's hand is not short and it's not too late Verse 5 Pray for the pastors, pray for the sinners Doubters and believers, pray, pray Everything in between, if we struggle, let's struggle But look out for each other, look out, look out We don't know what we go through, but we know we're the same Post-Chorus Glory to God, glory to God in the highest All glory to God Verse 6 Pick up the phone and forgive them 'cause it's worth it Tell the person that you love, that you love them Follow the dreams that somehow you laid aside Be yourself walkin' all the way into the light Verse 7 Before they're dead and they're gone, give them roses 'Cause there's a gift in every day and every moment The only way that I know how to redeem the time Is make the best of the present here and now Make the best of the present here and now All glory to God...
© 2020 ​Bethel Worship Publishing, Maverick City Publishing (Admin by Heritage Worship Music Publishing) ​Studio SBK Publishing (Admin by Music Services)
CCLI Song No. 7172430