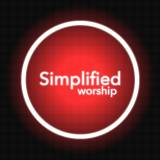 Behold Him (Simplified) Chords (Francesca Battistelli)
Behold Him (Simplified) Chords (Francesca Battistelli)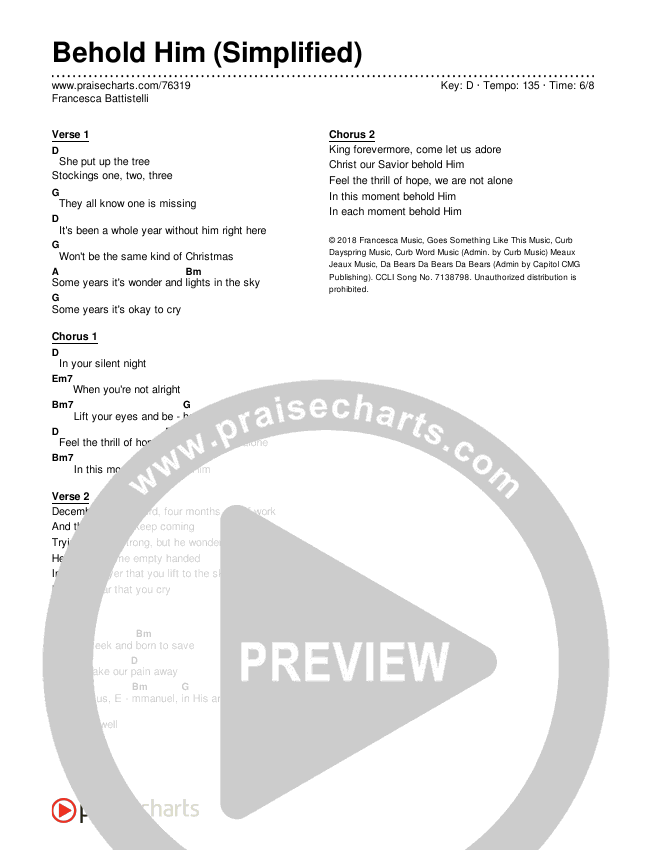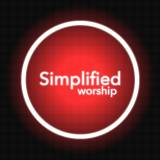 Behold Him (Simplified)
Francesca Battistelli
Chords & Lyrics (Editable) Details
Download the Chord Charts for Behold Him (Simplified) by Francesca Battistelli, from the album Simplified Worship.
| | |
| --- | --- |
| SongID | 76319 |
| Language | English |
| Album | Simplified Worship |
| Artists | Francesca Battistelli |
| Authors | Jeff Pardo, Francesca Battistelli, Molly Reed |
| Publishers | Word Music, Capitol Christian Music |
| CCLI Song No. | 7138798 |
| Instruments | Guitar, Ukelele, Piano |
| File Type | PDF |
| Pages | 17 |
| Original Key | D |
| Available Keys | A, Ab, B, Bb, C, C#, D, Db, E, Eb, F, F#, G, G#, Gb, Numbers, Numerals |
| Meter | |
| Themes | Sorrow, Trials, Salvation, Emmanuel, Savior, King, Hope, Christ, Christmas |
Lyrics
Verse 1 She put up the tree, stockings one, two, three They all know one is missing It's been a whole year without him right here Won't be the same kind of Christmas Some years it's wonder and lights in the sky Some years it's okay to cry Chorus 1 In your silent night when you're not alright Lift your eyes and behold Him Feel the thrill of hope, you are not alone In this moment behold Him Verse 2 December twenty-third, four months out of work And the bills just keep coming Trying to stay strong, but he wonders how long He'll come home empty handed In every prayer that you lift to the sky In every tear that you cry Bridge Born to seek and born to save, born to take our pain away God with us, Emmanuel, in His arms, all will be well Chorus 2 King forevermore, come let us adore Christ our Savior behold Him Feel the thrill of hope, we are not alone In this moment behold Him In each moment behold Him...
© 2018 Francesca Music, Goes Something Like This Music, Curb Dayspring Music, Curb Word Music (Admin. by Curb Music) Meaux Jeaux Music, Da Bears Da Bears Da Bears (Admin by Capitol CMG Publishing)
CCLI Song No. 7138798
Other Arrangements of This Song