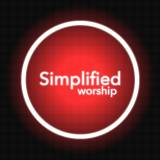 Less Like Me (Simplified) Chords PDF (Zach Williams)
Less Like Me (Simplified) Chords PDF (Zach Williams)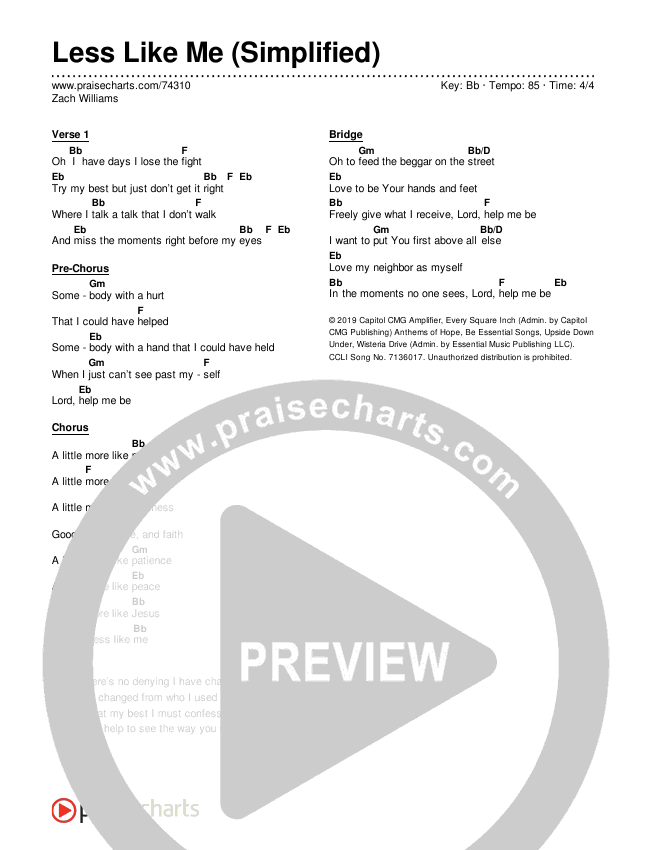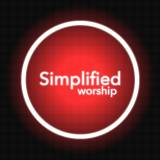 Less Like Me (Simplified)
Zach Williams
Chords & Lyrics (Editable) Details
Download the PDF Chord Charts for Less Like Me (Simplified) by Zach Williams, from the album Simplified Worship.
| | |
| --- | --- |
| SongID | 74310 |
| Language | English |
| Album | Simplified Worship |
| Artists | Zach Williams |
| Authors | Mia Fieldes, Hank Bentley, Zach Williams |
| Publishers | Essential Music Publishing |
| CCLI Song No. | 7136017 |
| Instruments | Guitar, Ukelele, Piano |
| File Type | PDF |
| Pages | 17 |
| Original Key | Bb |
| Available Keys | A, Ab, B, Bb, C, C#, D, Db, E, Eb, F, F#, G, G#, Gb, Numbers, Numerals |
| Meter | |
| Themes | Jesus, Transformation, Confession, Change, Peace, Faith, Love, Goodness, Kindness, Grace, Mercy, Lord |
Lyrics
Verse 1 Oh I have days I lose the fight Try my best but just don't get it right Where I talk a talk that I don't walk And miss the moments right before my eyes Pre-Chorus Somebody with a hurt that I could have helped Somebody with a hand that I could have held When I just can't see past myself, Lord, help me be Chorus A little more like mercy, a little more like grace, A little more like kindness, goodness, love, and faith A little more like patience, a little more like peace A little more like Jesus, a little less like me Verse 2 Yeah, there's no denying I have changed I've been changed from who I used to be But even at my best I must confess I still need help to see the way you see Bridge Oh to feed the beggar on the street, love to be Your hands and feet Freely give what I receive, Lord, help me be I want to put You first above all else, love my neighbor as myself In the moments no one sees, Lord, help me be...
© 2019 Capitol CMG Amplifier, Every Square Inch (Admin. by Capitol CMG Publishing) Anthems of Hope, Be Essential Songs, Upside Down Under, Wisteria Drive (Admin. by Essential Music Publishing LLC)
CCLI Song No. 7136017
Other Arrangements of This Song