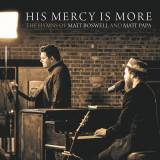 Sing We The Song Of Emmanuel Flute/Oboe Sheet Music PDF (Matt Boswell / Matt Papa)
Sing We The Song Of Emmanuel Flute/Oboe Sheet Music PDF (Matt Boswell / Matt Papa)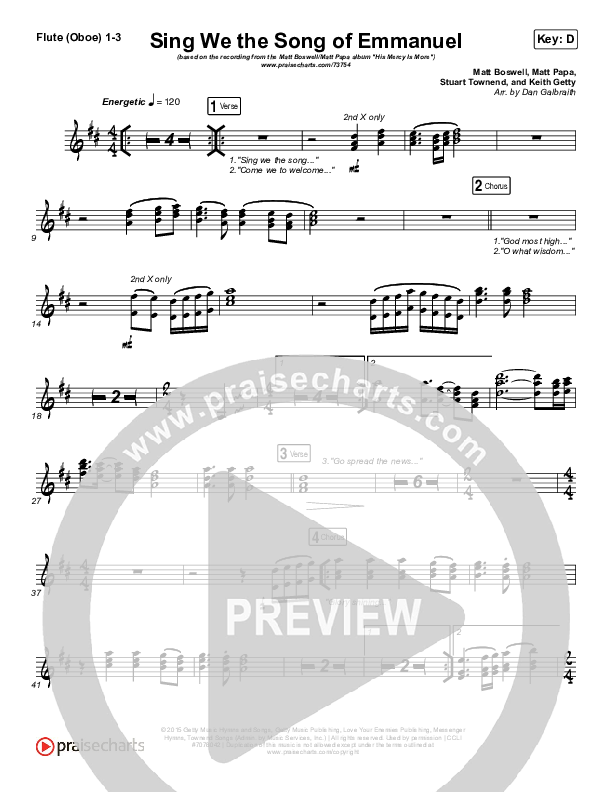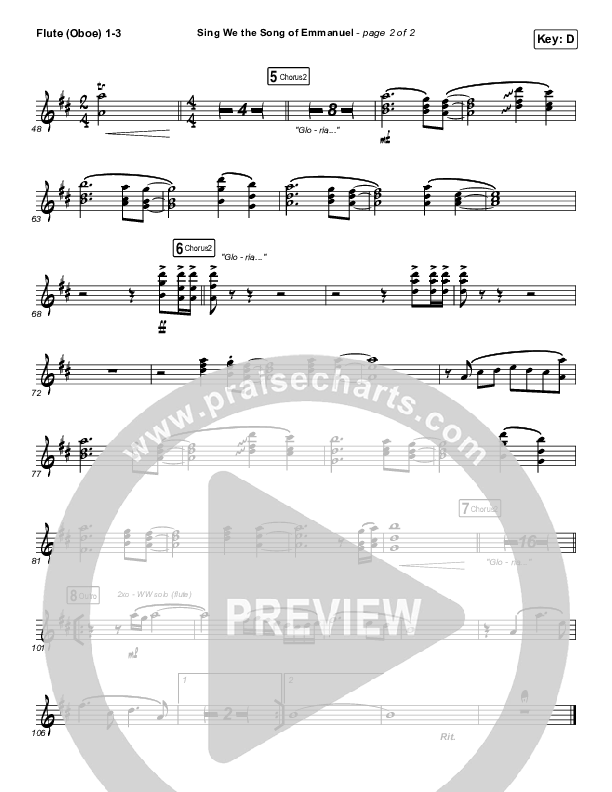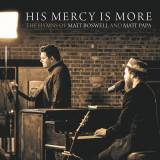 Sing We The Song Of Emmanuel
Matt Boswell / Matt Papa
Flute/Oboe 1/2/3 Details
Download the Flute/Oboe sheet music for Sing We The Song Of Emmanuel by Matt Boswell / Matt Papa, from the album His Mercy Is More - The Hymns Of Matt Boswell And Matt Papa. This song was arranged by Daniel Galbraith in the key of D, E, Eb.
| | |
| --- | --- |
| SongID | 73754 |
| Language | English |
| Album | His Mercy Is More - The Hymns Of Matt Boswell And Matt Papa |
| Artists | Matt Boswell, Matt Papa |
| Authors | Stuart Townend, Keith Getty, Matt Papa, Matt Boswell |
| Arrangers | Daniel Galbraith |
| Publishers | Music Services, Getty Music |
| CCLI Song No. | 7078042 |
| Tempo | Med Fast |
| File Type | PDF |
| Pages | |
| Original Key | D |
| Available Keys | D, E, Eb |
| Meter | 4/4 |
| Themes | Adoration, Bethlehem, Christmas, Emmanuel, Glory, Gospel, Hope, Jesus, Joy, Light, Majesty, Manger, Modern Hymn, Peace, Praise, Proclamation, Promise, Salvation, Singing, Grace, Christmas Worship |
Lyrics
Verse 1 Sing we the song of Emmanuel This the Christ who was long foretold Lo in the shadows of Bethlehem Promise of dawn now our eyes behold Chorus 1 God most high in a manger laid Lift your voices and now proclaim Great and glorious, love has come to us Join now with the hosts of heaven Verse 2 Come we to welcome Emmanuel King who came with no crown or throne Helpless He lay, the invincible Maker of Mary, now Mary's son Chorus 2 O what wisdom to save us all Shepherds, sages, before him fall Grace and majesty, what humility Come on bended knee, addore Him Verse 3 Go spread the news of Emmanuel Joy and peace for the weary heart Lift up your heads, for your King has come Sing for the light overwhelms the dark Chorus 3 Glory shining for all to see Hope alive, let the gospel ring God has made a way, He will have the praise Tell the world His name is Jesus Chorus 4 Gloria, gloria Glo- ria, gloria Chorus 5 Gloria, gloria Gloria, gloria...
© 2015 Getty Music Hymns and Songs, Getty Music Publishing, Love Your Enemies Publishing, Messenger Hymns, Townend Songs (Admin. by Music Services, Inc.)
CCLI Song No. 7078042