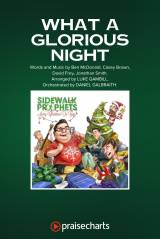 What A Glorious Night (Choral Anthem SATB) Chords PDF (Sidewalk Prophets / PraiseCharts Choral / Arr. Luke Gambill)
What A Glorious Night (Choral Anthem SATB) Chords PDF (Sidewalk Prophets / PraiseCharts Choral / Arr. Luke Gambill)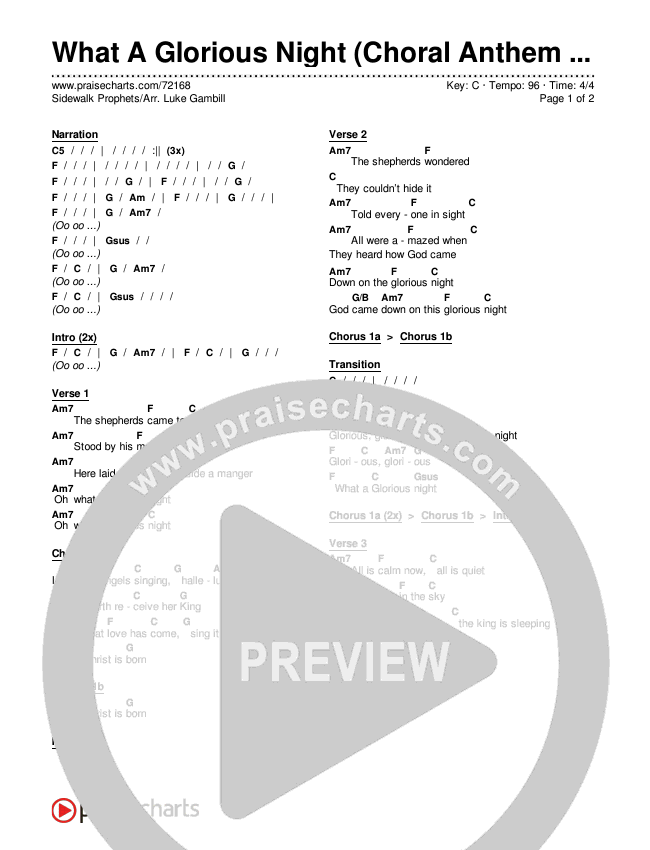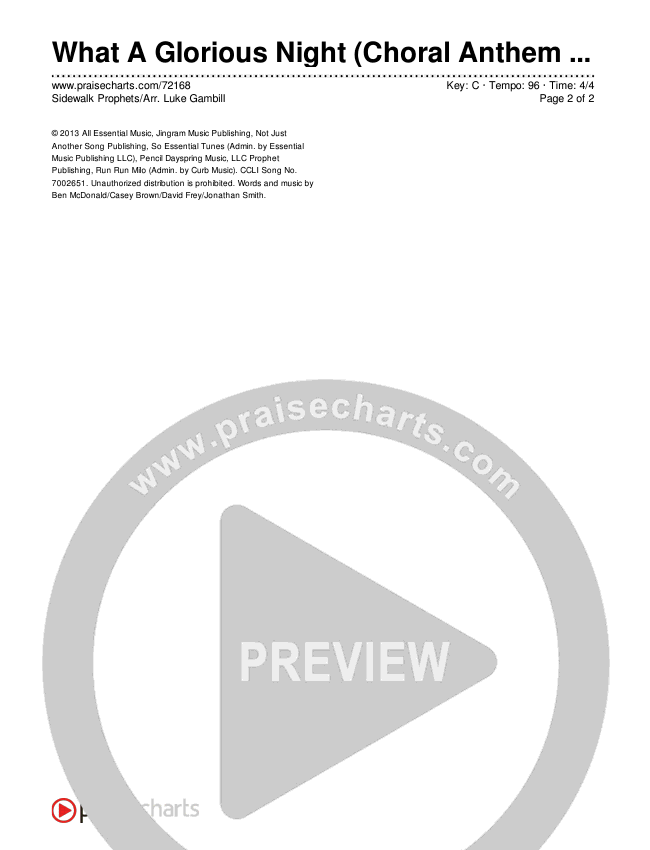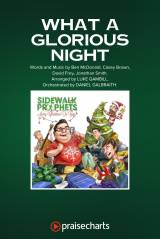 What A Glorious Night (Choral Anthem SATB)
Sidewalk Prophets / PraiseCharts Choral / Arr. Luke Gambill
Chords & Lyrics (Editable) Details
Download the PDF Chord Charts for What A Glorious Night (Choral Anthem SATB) by Sidewalk Prophets / PraiseCharts Choral / Arr. Luke Gambill, from the album Merry Christmas To You. This song was arranged by Luke Gambill / Daniel Galbraith in the key of C.
| | |
| --- | --- |
| SongID | 72168 |
| Language | English |
| Album | Merry Christmas To You |
| Artists | Sidewalk Prophets, PraiseCharts Choral, Arr. Luke Gambill |
| Authors | Ben McDonald, Casey Brown, David Frey, Jonathan Smith |
| Arrangers | Luke Gambill, Daniel Galbraith |
| Publishers | Essential Music Publishing |
| CCLI Song No. | 7002651 |
| Tempo | Med Fast |
| Instruments | Guitar, Ukelele, Piano |
| File Type | PDF |
| Pages | |
| Original Key | C |
| Available Keys | A, Ab, B, Bb, C, C#, D, Db, E, Eb, F, F#, G, G#, Gb, Numbers, Numerals |
| Meter | 4/4 |
| Themes | Christmas Day, Star, Jesus, King, Birth, Glory, Manger, Angels, Shepherd, Advent, Christmas, Christmas Eve |
Lyrics
Narration (Oo oo ...) (Oo oo ...) (Oo oo ...) (Oo oo ...) Intro (Oo oo ...) Verse 1 The shepherds came to see the baby Stood by his mother's side Here laid the Savior inside a manger Oh what a glorious night Oh what a glorious night Chorus 1a I hear the angels singing, hallelujah Let the earth receive her King I know that love has come, sing it out Jesus Christ is born Chorus 1b Jesus Christ is born Verse 2 The shepherds wondered, they couldn't hide it Told everyone in sight All were amazed when they heard how God came Down on the glorious night God came down on this glorious night Bridge Glorious, glorious, what a Glorious night Glorious, glorious What a Glorious night Verse 3 All is calm now, all is quiet A Star shining in the sky Below in Bethlehem, the king is sleeping Oh what a glorious night Oh what a glorious night...
© 2013 All Essential Music, Jingram Music Publishing, Not Just Another Song Publishing, So Essential Tunes (Admin. by Essential Music Publishing LLC), Pencil Dayspring Music, LLC Prophet Publishing, Run Run Milo (Admin. by Curb Music)
CCLI Song No. 7002651