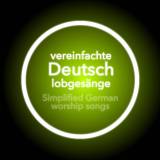 Deine Liebe Bleibt (Simplified) Chords PDF
Deine Liebe Bleibt (Simplified) Chords PDF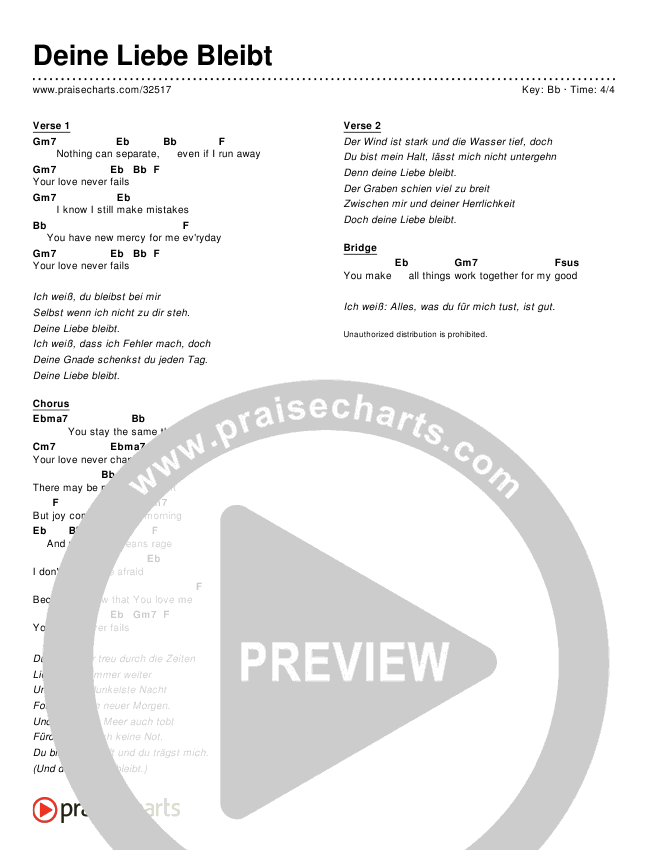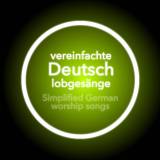 Deine Liebe Bleibt (Simplified)
Chords & Lyrics (Editable) Details
Download the PDF Chord Charts for Deine Liebe Bleibt (Simplified), from the album Vereinfachte Deutsch Lobgesänge.
| | |
| --- | --- |
| SongID | 32517 |
| Language | German |
| Album | Vereinfachte Deutsch Lobgesänge |
| Authors | Anthony Skinner, Chris McClarney |
| Publishers | Capitol Christian Music |
| CCLI Song No. | 5337172 |
| Instruments | Guitar, Ukelele, Piano |
| File Type | PDF |
| Pages | 17 |
| Original Key | Bb |
| Available Keys | A, Ab, B, Bb, C, C#, D, Db, E, Eb, F, F#, G, G#, Gb, Numbers, Numerals |
| Meter | |
| Themes | Ocean, Good, Deep, Water, Morning, Joy, Pain, Mercy, Love, Sustainer |
Lyrics
Verse 1 Nothing can separate, even if I run away Your love never fails I know I still make mistakes, You have new mercy for me ev'ryday Your love never fails #Ich weiß, du bleibst bei mir, selbst wenn ich nicht zu dir steh. #Deine Liebe bleibt. #Ich weiß, dass ich Fehler mach, doch, deine Gnade schenkst du jeden Tag. #Deine Liebe bleibt. Chorus You stay the same through the ages, Your love never changes There may be pain in the night, but joy comes with the morning And when the oceans rage, I don't have to be afraid Because I know that You love me Your love never fails #Du bleibst dir treu durch die Zeiten, liebst mich immer weiter, #und auf die dunkelste Nacht, folgt doch ein neuer Morgen. #Und wenn das Meer auch tobt, fürchte ich doch keine Not. #Du bist mein Halt und du trägst mich. #(Und deine Liebe bleibt.) Verse 2 #Der Wind ist stark und die Wasser tief, doch du bist mein Halt, lässt mich nicht untergehn, #denn deine Liebe bleibt. #Der Graben schien viel zu breit, zwischen mir und deiner Herrlichkeit #doch deine Liebe bleibt. Bridge You make all things work together for my good #Ich weiß: Alles, was du für mich tust, ist gut....
© 2008 Thankyou Music, Integrity's Alleluia Music, Out Of The Cave Music (Admin. by Capitol CMG Publishing)
CCLI Song No. 5337172