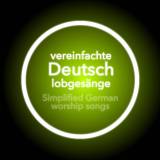 Gnade Für Uns (Die Ketten Los) (Simplified) Chords PDF
Gnade Für Uns (Die Ketten Los) (Simplified) Chords PDF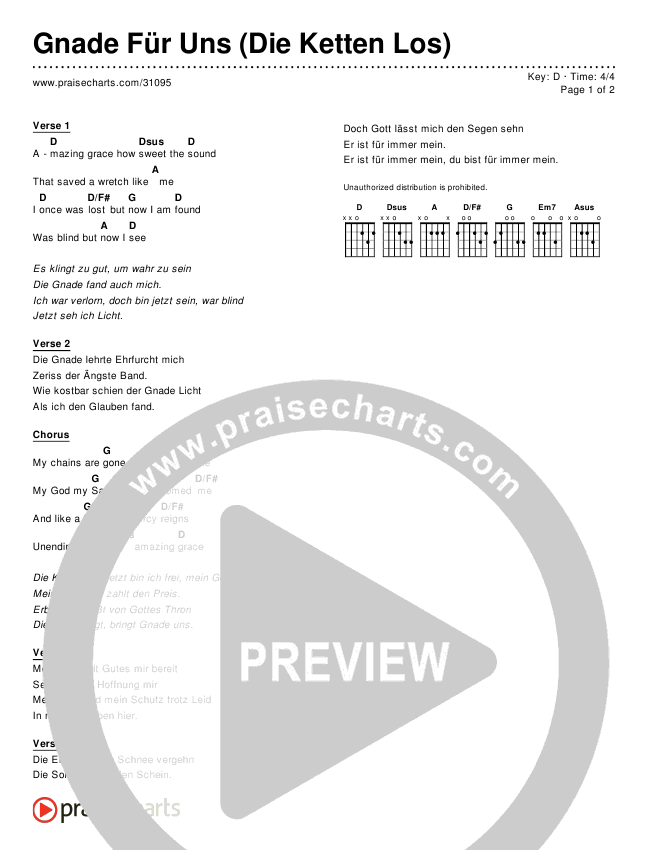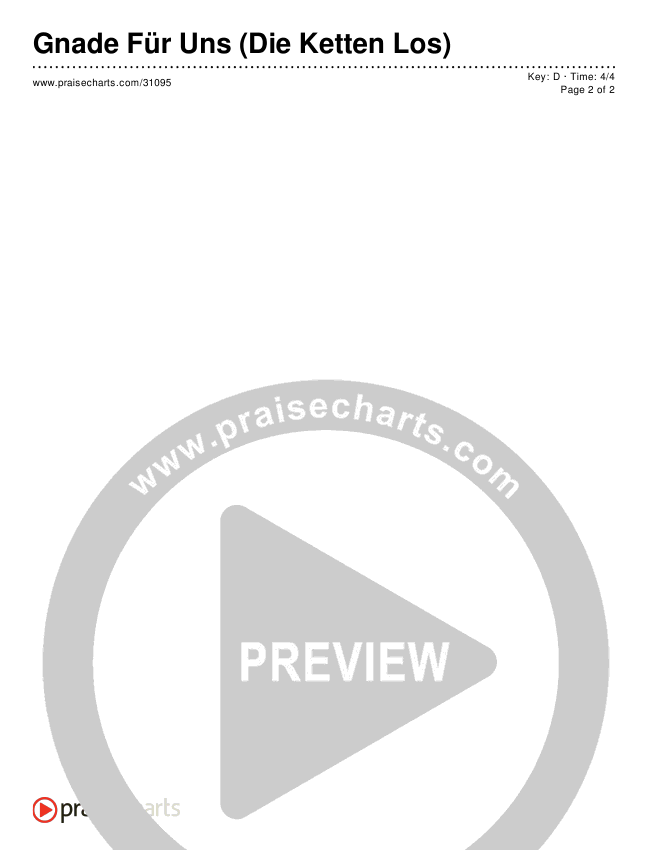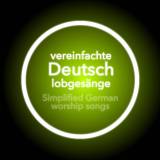 Gnade Für Uns (Die Ketten Los) (Simplified)
Chords & Lyrics (Editable) Details
Download the PDF Chord Charts for Gnade Für Uns (Die Ketten Los) (Simplified), from the album Vereinfachte Deutsch Lobgesänge.
| | |
| --- | --- |
| SongID | 31095 |
| Language | German |
| Album | Vereinfachte Deutsch Lobgesänge |
| Authors | John Newton, Chris Tomlin, Louie Giglio |
| Publishers | Capitol CMG |
| CCLI Song No. | 4768151 |
| Instruments | Guitar, Ukelele, Piano |
| File Type | PDF |
| Pages | |
| Original Key | D |
| Available Keys | A, Ab, B, Bb, C, C#, D, Db, E, Eb, F, F#, G, G#, Gb, Numbers, Numerals |
| Theme | Abiding, Affirmation, Amazing, Aspiration, Belief, Bible, Communion, Compassion, Confidence, Cross, Earth, Easter, Fear, Freedom, Good Friday, Goodness, Grace, Heart, Hope, Hymn, Lent, Life, Love, Mercy, Modern Hymn, Resurrection, Savior, Security, Shield, Teaching, Endure, Flood, Lost, Ransom, Snow, Chains |
Lyrics
Verse 1 Amazing grace how sweet the sound, that saved a wretch like me I once was lost but now I am found, was blind but now I see #Es klingt zu gut, um wahr zu sein, die Gnade fand auch mich. #Ich war verlorn, doch bin jetzt sein, war blind, jetzt seh ich Licht. Verse 2 Die Gnade lehrte Ehrfurcht mich, zeriss der Ängste Band. Wie kostbar schien der Gnade Licht, als ich den Glauben fand. Chorus My chains are gone I've been set free, my God my Savior has ransomed me And like a flood His mercy reigns, unending love amazing grace #Die Ketten los, jetzt bin ich frei, mein Gott, mein Retter, er zahlt den Preis. #Erbarmen fließt von Gottes Thron, die Liebe siegt, bringt Gnade uns. Verse 3 Mein Herr hält Gutes mir bereit, sein Wort ist Hoffnung mir, mein Erbe und mein Schutz trotz Leid, in meinem Leben hier. Verse 4 Die Erde wird wie Schnee vergehn, die Sonn' verliert den Schein. Doch Gott lässt mich den Segen sehn, er ist für immer mein. Er ist für immer mein, du bist für immer mein....
© 2009 worshiptogether.com songs, sixsteps Music (Admin by Capitol Christian Music Publishing)
CCLI Song No. 4768151