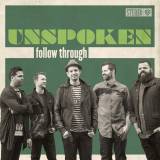 Higher Chords PDF (Unspoken)
Higher Chords PDF (Unspoken)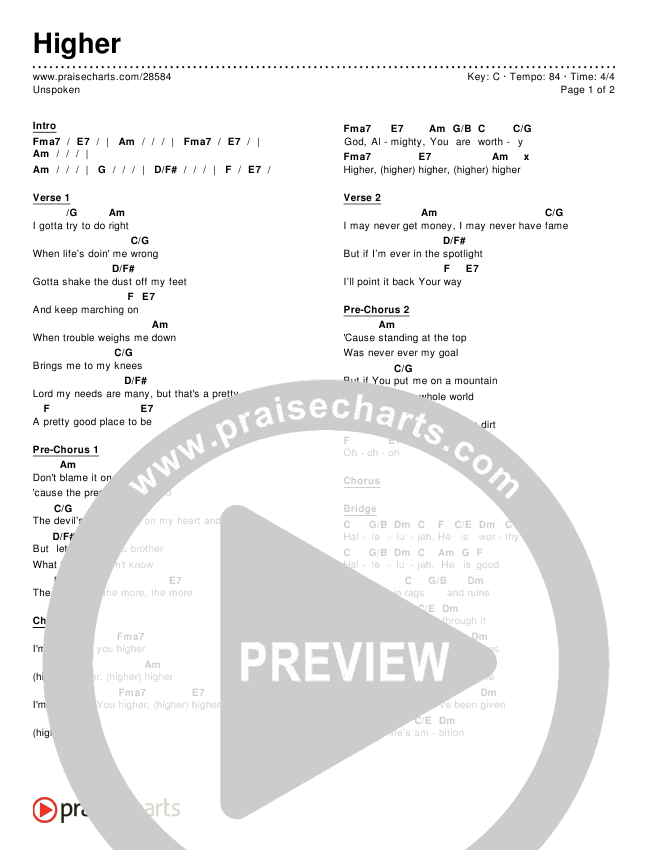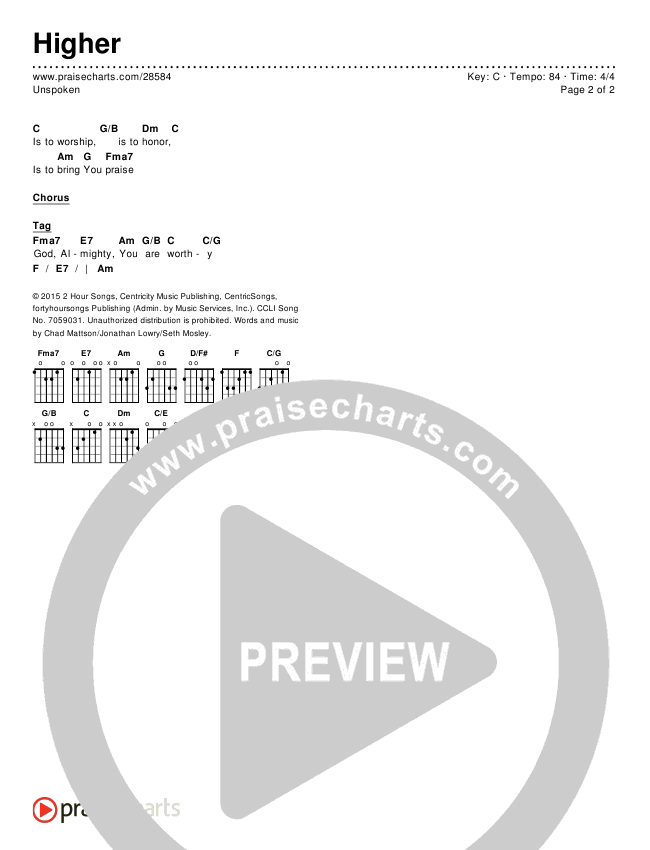 Chords & Lyrics (Editable) Details
Download the PDF Chord Charts for Higher by Unspoken, from the album Follow Through. This song was arranged by Dave Iula / Daniel Galbraith in the key of Am, Gm.
| | |
| --- | --- |
| SongID | 28584 |
| Language | English |
| Album | Follow Through |
| Artists | Unspoken |
| Authors | Chad Mattson, Jonathan Lowry, Seth Mosley |
| Arrangers | Dave Iula, Daniel Galbraith |
| CCLI Song No. | 7059031 |
| Tempo | Med Slow |
| Style | Urban Gospel |
| Instruments | Guitar, Ukelele, Piano |
| File Type | PDF |
| Pages | |
| Original Key | C |
| Available Keys | A, Ab, B, Bb, C, C#, D, Db, E, Eb, F, F#, G, G#, Gb, Numbers, Numerals |
| Meter | 4/4 |
| Themes | Faith, Sufficiency, Trust |
Lyrics
Verse 1 I gotta try to do right, when life's doin' me wrong Gotta shake the dust off my feet, and keep marching on When trouble weighs me down, brings me to my knees Lord my needs are many, but that's a pretty, yeah A pretty good place to be Pre-Chorus 1 Don't blame it on the preacher, 'cause the preacher done told The devil's got a target on my heart and my soul But let me tell you brother, what the devil don't know The lower I go the more, the more Chorus I'm gonna lift you higher, (higher) higher, (higher) higher I'm gonna lift You higher, (higher) higher, (higher) higher God, Almighty, You are worthy higher, (higher) higher, (higher) higher Verse 2 I may never get money, I may never have fame But if I'm ever in the spotlight, I'll point it back Your way Pre-Chorus 2 'Cause standing at the top, was never ever my goal But if You put me on a mountain, then I'll tell the whole world Singing hallelujah 'til I hit the dirt, ohohoh Bridge Hallelujah, He is worthy Hallelujah, He is good Leave me in rags and ruins, and I'll praise You through it Clothe me in glory and riches, I'll praise You just the same All that I have, all I've been given, all of my life's ambition Is to worship, is to honor, is to bring You praise Tag God, Almighty, You are worthy...
© 2015 2 Hour Songs, Centricity Music Publishing, CentricSongs, fortyhoursongs Publishing (Admin. by Music Services, Inc.)
CCLI Song No. 7059031