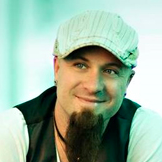 About
Charlie Hall has been traveling for almost 15 years, from OKC to Kuala Lumpur, enthralling friends and strangers with his goatee and his songs.
With a musical journey that has crisscrossed all kinds of rock music, folk music, and electronic music, he carries a songwriting sense that aims to capture dense images of life with God, in compositions that can be carried with the listener. He aims to tell the old story of the Gospel in an ever-shifting world, without resorting to easy truisms, or lazy language. His new collection of songs, The Bright Sadness, echoes a journey pressed to the chest of God, joyful and sorrowful at once, with God's heart clear and pulsing in each note and word. It wraps liturgy with the unexpected, and daily mundanity with daily surprise.
Hall's band, in which he performs vocals and guitar, consists of Kendall Combes (electric guitar), Brian Bergman (keyboard), Dustin Ragland (drums), and Quint Anderson (bass guitar). Since 1991, Charlie has been traveling, songwriting, and sharing life with people in his home of Oklahoma City, and across the United States, and even across several oceans. He attended Cherokee Hills Baptist Church.
After the releases of two independent albums, Charlie Hall released Porch and Altar, which was labeled by sixsteprecords, in 2001. Porch and Altar was the second album released by the label. Charlie has created several albums of diverse music. The latest is "The Bright Sadness". As many of the Passion collegiate gatherings were recorded live, Hall was quickly dubbed "a voice" for the Passion movement, performing on all eight Passion albums, which have sold more than one million units. Charlie expresses the desire to be "honed into God, where I'm not part of a culture where I'm trying to make the people around me think, 'Hey, that's a good Christian.' I'm just trying to pursue God and not pursue being accepted into a club...I'm more honed into my pursuit of God in Christ and how he's forming me and changing and helping me love him and know him.