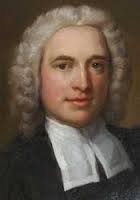 About
Charles Wesley was the son of Susanna Wesley and Samuel Wesley. He was born in Epworth, Lincolnshire, England, where his father was rector. He was educated at Westminster School and Christ Church, Oxford, and formed the "Oxford Methodist" group among his fellow students in 1727 which his elder brother, John joined in 1729 soon becoming its leader and moulding it to his own notions. George Whitefield also joined this group. After graduating with a Masters' in classical languages and literature, Charles followed his father and brother into the church in 1735, and traveled with John to the Georgia Colony in British America in the entourage of the governor, James Oglethorpe, returning a year later.
Charles lived and worked in the area around St Marylebone Parish Church and so, just before his death, he sent for its rector John Harley and told him "Sir, whatever the world may say of me, I have lived, and I die, a member of the Church of England. I pray you to bury me in your churchyard." On his death, his body was carried to the church by eight clergymen of the Church of England, and a memorial stone to him stands in the gardens in Marylebone High Street, close to his burial spot. One of his sons, Samuel, became organist of the church.
In 1749, he married the much younger Sarah Gwynne, daughter of Marmaduke Gwynne, a wealthy Welsh magistrate who had been converted to Methodism by Howell Harris. She accompanied the brothers on their evangelistic journeys throughout Britain, until Charles ceased to travel in 1765. They moved to Great Chesterfield Street (now Wheatley Street) in Marylebone, where they remained until Charles' death.
Charles and Sarah had eight children, but only three survived infancy: Charles Wesley junior (1757–1834), Samuel Wesley (1766–1837) and Sarah Wesley. Both Samuel and Charles junior were organists and composers; Samuel Wesley's son, Samuel Sebastian Wesley, was one of the foremost British composers of the nineteenth century, and some of Charles junior's works are still available and played.
Source:
Charles Wesley. (2009, December 4). In Wikipedia, The Free Encyclopedia. Retrieved 02:20, January 5, 2010, from http://en.wikipedia.org/w/index.php?title=Charles_Wesley&oldid=329596355
[include key="creative-commons"]