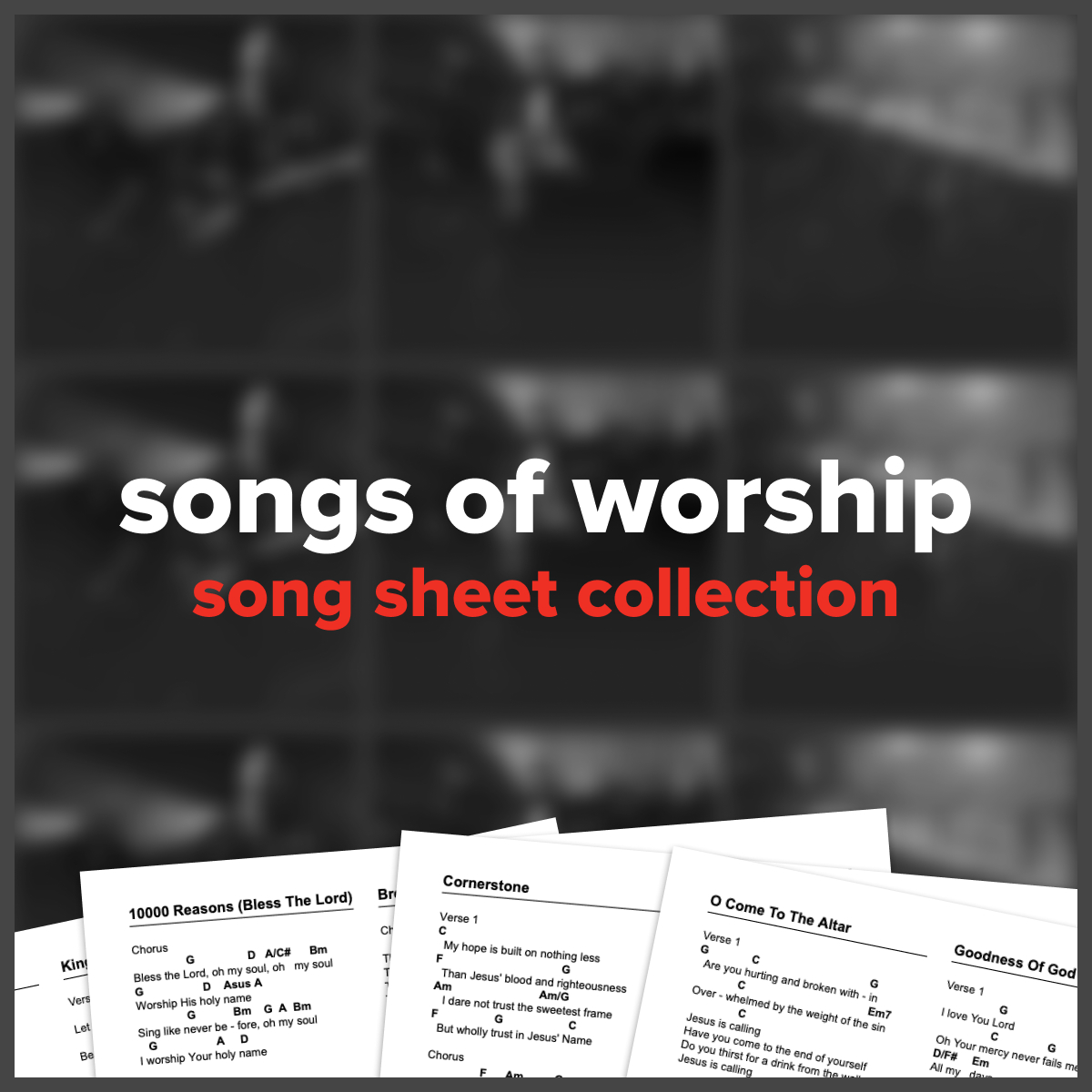 About
During these uncharted times, we seek to find new ways to worship together. This resource comes deep from the heart of PraiseCharts. Today we are introducing "Songs Of Worship" as a series of song collections designed for any worship setting. These songs are the battle cry we need to wage this war together; a treasure chest of hope and encouragement for your soul; an encompassing way to put on the armor of God. Sing them at church. Sing them at home. Sing them over your family. Sing them with your spouse. Sing them online, offline, inside and outside. Right now, your local church doors are closed. So, go be the church ... without walls. Wage this war with worship. Fill your chest with a treasure that will not fade away.
The concept for this series began many months ago, long before social isolation and online worship was the new norm. The project sat on the back burner as we were consumed with producing choral and orchestral arrangements. Now, for a season, choirs and orchestras must make way for the precedence of another form of worship -- more intimate and private, yet still shared as a global community. Songs Of Worship is a series of song sheets featuring your favorite worship titles in all kinds of genres, arranged in singable keys that are easy to play on the guitar or piano. Most collections have 24 songs that you should be able to print on six pages, back to back. Feel free to mix and match the pages and create custom song sheets for yourself or your small group.
We have put a lot of thought into the format of this series. Stay tuned, because we have plans to release many, many collections in the future. As you dive into this new form of worship, allow us to take you on a tour of the special features of this series. We hope that these songs will bring you a sense of hope, encouragement, and community with the global worshipping church.
1. Simple Arrangements
Let's be honest, this is not a time to try to sound like the original recording. This is a time to connect with the heart of worship and allow the simple arrangements to guide you along with your own creative freedom as you sing and play these songs.
2. Singable Keys
As much as possible, we've tried to select keys that are both easy to play and accessible to sing. In some cases, you might even find them a little low for your vocal range. If you play guitar, the simple fix is to pull out a capo and raise the key a few semitones to match the range of your voice perfectly. If you are playing piano, you might have to transpose on the fly or read below about how you can actually edit these arrangements and put them into other keys.
3. Shareable With Your Church Community
If you purchase these song sheets, you can use your church license with CCLI to legally share the sheets with your church family. Please remember that these are copyrighted songs. We have taken great caution to appropriately license these song sheets for sale so that the authors and publishers are compensated for their creative work. These are challenging times for our finances, but we have sought to create a resource that is affordable and packed with value. Please do not share these song sheets outside of your immediate church community.
4. Access To The Original Master Files
When you purchase a song sheet collection, you will receive the file as a downloadable PDF. The PDF is packed with links that will help you learn the songs, and also access the original master file so that you can edit the keys and even create your own custom collections. To access the original master file of your song sheet, simply click on the 'PraiseCharts' logo in the bottom left corner. This will prompt you to log in to Google Docs, where you can create your own copy and edit it as you wish. Please do not share this link or the master file with anyone, as the contents are copyrighted materials. See number "1" in the image below as an example of where to click on the PraiseCharts logo.
5. Quick Links To The Original Songs On PraiseCharts
All of these simplified arrangements are adapted from the most popular versions of the original arrangements that match the recordings you may have heard on the radio or your streaming platforms. For quick access to the complete collection of original songs on PraiseCharts, a link is provided at the bottom center on every page of every song sheet. See number "2" in the image below as an example of where this link is. If you want to go directly to the original recording of a single song in the collection, the links are provided in the copyright lines of every song. See number "4" in the image below as an example of where to find those links.
6. Easy Access To Integrated Playlists On Spotify
For every song sheet that we create, there is a matching Spotify playlist. You can see all the PraiseCharts playlists on Spotify here. Every page of every song sheet has a QR code that gives you a direct link to the Spotify playlist featuring the list of songs on your song sheet. Simply open the camera on your phone and point it at the QR code. Then, go to the URL that pops up on your phone to find the playlist on Spotify. You might be prompted to open the list with the Spotify app. Then, you'll have the option to save the playlist to your own Spotify account. Even if you have a free Spotify account, you should still be able to listen to the songs. See number "3" in the image below as an example of where to find the QR code.


8. New Collections Are Being Released Regularly
For the next while, developing this series is a primary focus of our team at PraiseCharts. We want to equip you to flourish as a musician and worshipper wherever you are. We try to fill every collection with a set of songs that go well together. Sometimes you'll find the same song showing up in multiple collections. Feel free to add as many collections as you like to your personal library. With access to the original master files online, you can then build your own custom song sheets with specific songs that you choose, in keys that specifically match your vocal range.
Find the full list of song sheets here. Below is a list of a few recently created collections:
[song id="74652,74654,74655,74656,74657,74658,74659,74660,74661,74662,74663,74664,74666,74667,74668,74669, 74670"]