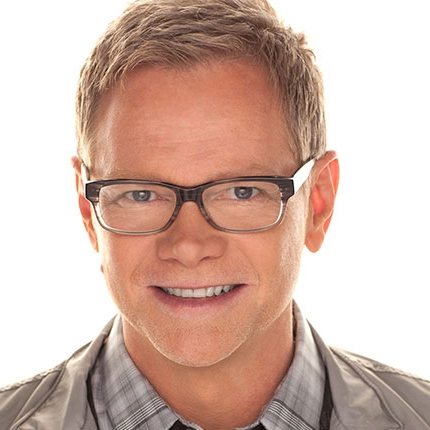 About
Steven Curtis Chapman (born November 21, 1962 in Paducah, Kentucky, U.S.) is a Contemporary Christian musician. After starting his career in the late 1980s as a songwriter, Chapman has turned into one of the most prolific singers in the genre, releasing more than 20 albums to this date. Chapman has also won five Grammy awards and 56 Gospel Music Association Dove Awards, more than any other artist in history. His seven "Artist of the Year" Dove Awards, his latest in 2009, are also an industry record. As of 2007, Chapman has sold more than 10 million albums and has 9 RIAA-certified Gold or Platinum albums.
Chapman is also a vocal advocate for adoption, along with his wife Mary Beth. Together, they have adopted three children from China and have started a charity organization called Show Hope (formerly called Shaohannah's Hope), that mobilizes individuals and communities to care for orphans through its international orphan care work as well as adoption aid grants to help put more orphans from overseas and the U.S. in loving, forever families. In 2009, Show Hope finished building Maria's Big House of Hope, a medical care center in China that provides holistic care to orphans with special needs. He is also a contributor to Compassionart, a charity founded by Martin Smith of British rock band Delirious?.

Steven Curtis Chapman was born to Herb and Judy Chapman in Paducah, Kentucky on November 21, 1962. Chapman's father is a guitar teacher in Paducah, and young Chapman, along with his brother Herb, Jr. grew up playing the guitar and singing.

Upon finishing high school, Chapman enrolled as a pre-med student at Georgetown College in Kentucky. After a couple of semesters, he transferred to Anderson College in Indiana. However, he soon dropped out and went to Nashville to pursue a career in music. While in Nashville he briefly attended Belmont University. He began working a music show at Opryland USA while dedicating time to songwriting.

In the 1980s, Chapman wrote a song called "Built to Last," which was recorded by prominent gospel group, The Imperials. The strength of the song prompted him to be signed to a songwriting deal with Sparrow Records, where he rose to prominence. As of 2007, artists like Sandi Patty, Billy Dean, Glen Campbell, and Roger Whittaker have recorded Chapman's songs.
In 1987, Chapman released his first album, First Hand. The album included the song "Weak Days," which peaked at #2 on the Contemporary Christian Music chart. In 1988, he followed with his second album, Real Life Conversations, which earned him four more hits, including the #1 song "His Eyes." The song, which was co-written by James Isaac Elliott, earned the Contemporary Recorded Song of the Year award from the Gospel Music Association in 1989. That year, he also won a GMA Award for Best Songwriter of the Year.

After that, Chapman followed with more albums like More to This Life and For the Sake of the Call. All of these albums featured several #1 singles, and were awarded several GMA Awards. The latter also gave Chapman his first Grammy in the Best Pop Gospel Album category. These achievements strengthened his position in the Christian music scene.

In 1992, Chapman made a successful shift into a more mainstream audience with his album The Great Adventure. The album garnered Chapman with two more Grammys for the album, and the title track video. After Sparrow Records was purchased by EMI/Liberty, they began to market the album to a broader audience, pushing it to gold status in 1993. The success of the album prompted Chapman to record one of his concerts and release it as The Live Adventure, both as a video and a CD. This continuation won Chapman more GMA Awards, and also a new award from American Songwriter magazine for Songwriter and Artist of the Year.

Chapman continued to enjoy success with albums like Heaven in the Real World, Signs of Life, and Speechless. In 2001, with the release of Declaration, Chapman began to get more attention in the Top 200. That album, along with 2002's All About Love, peaked in the Top 15. The follow-up, All Things New, made it to #22.

Chapman has also released three Christmas albums, beginning with 1995's The Music of Christmas. In 2005, he released All I Really Want for Christmas, and this was followed by a re-release of The Music of Christmas in 2004, distributed only at Hallmark stores.

In the Christian video game Dance Praise, four songs from Steven Curtis Chapman are included: "All About Love," "Dive," "Live Out Loud," and "Only Getting Started." The Dance Praise expansion pack, Dance Praise Expansion Pack Volume 1: Modern Worship, adds the following songs to the game: "Children of the Burning Heart," "Let us Pray," "See the Glory," "Fingerprints of God," and "I Do Believe."

Chapman also hosts the Gospel Music Channel show, "The Best of the Dove Awards."

In 2006, Chapman went on tour to several Asian countries. His website claims his concert for U.S. troops serving in South Korea was the first Christian concert ever performed for the troops in that country, and a concert in Shanghai, China was "the first public performance by a Gospel recording artist event in the city open to China passport holders," and the third-largest concert in Shanghai that spring. The tour also took the artist to Australia, New Zealand, the Philippines, Hong Kong, and Singapore. During the same period, his song "The Blessing" reached number one on Thailand radio charts. His number one hit was Dive.

In 2007, Chapman co-headlined Newsong's annual Winter Jam tour with Jeremy Camp. For the tour, he brought his sons' band, The Following, out on tour to play as his backing band, along with longtime keyboardist Scott Sheriff. Chapman also released This Moment, which included his biggest hit "Cinderella", in October 2007. He was chosen for WOW Hits 2009 for Cinderella. He continues to tour with his sons, Caleb and Will Franklin.

On April 20, 2008, Chapman was awarded a star on Nashville's Walk of Fame for his contributions in Christian music.

On November 3, 2009, Chapman released his seventeenth album Beauty Will Rise. Many of the songs from this album are inspired by the death of his daughter, Maria Sue. He claims that the songs on the album are his "personal psalms."

Chapman is a devout Christian, and as of 1984, he has been married to Mary Beth Chapman (they had the same last name prior to their marriage). The couple met in the early 80s at Anderson University in Anderson, Indiana and married in the fall of 1984. They currently live in Franklin, Tennessee, and have three biological children (Emily Elizabeth, Caleb Stevenson, and Will Franklin). They adopted three young girls from China (Shaohannah Hope Yan, Stevie Joy Ru, and Maria Sue Chunxi).

When Steven and Mary were first married, they struggled with finances and turned to God in prayer. A few days before their anniversary, they found out that Mary was pregnant. When arriving home one night, they noticed fire engines outside their apartment, and realized their apartment had burnt down. They had no insurance to cover the cost of damages, and they moved in with friends. Then Sparrow Records noticed Steven's vocal abilities and signed him.

Together, Chapman and his wife have written three children's books with adoption themes: Shaoey And Dot: Bug Meets Bundle (2004), Shaoey and Dot: The Christmas Miracle (2005), and Shaoey and Dot: A Thunder and Lightning Bug Story With illustrations by Mary Beth's older brother Jim Chapman (2006). Chapman's modern fairytale, Cinderella: The Love of a Daddy and His Princess (2008) chronicles and celebrates the blessings of childhood, family, love, and life. Together with minister Scotty Smith, Chapman has authored two books for the adult inspirational market: Speechless (1999) and Restoring Broken Things (2005). Chapman's song "All About Love" has been featured in commercials for the Fox television show Celebrity Duets.

Chapman and his sons recorded under the name of "Stevenson" for the 2003 Veggie Rocks CD. (Song: "I Love My Lips," VeggieTales). Chapman also starred in the 2003 film Christmas Child.
Chapman's five-year-old daughter, Maria Sue Chapman, was killed in a tragic accident on May 21, 2008. The accident happened ten days after Maria's Birthday. Maria was accidentally hit by her big brother Will while he was driving a Toyota Land Cruiser pulling into the driveway of their home in Franklin, Tennessee, according to Tennessee Department of Safety spokesman Mike Browning. Maria was pronounced dead upon arrival to the hospital. Maria died from her injuries and Blood loss.

The entire family was preparing to celebrate their eldest son Caleb's graduation from high school and their daughter Emily's engagement just hours before the accident. A spokesman for the Tennessee Highway Patrol termed it "a terrible accident," and no charges were filed.

Maria, the youngest in the family, was one of three daughters whom Steven and Mary Beth had adopted from China. During the memorial service for Maria, in which Pastor Scotty Smith preached, the family expressed their faith in God and their love for each other.

In the aftermath of the tragedy, the Chapman family began to speak publicly about their loss and the role that faith played in it all. They appeared on Good Morning America, Larry King Live, in People magazine, and on The 700 Club. Maria was buried in her Flower Girl Dress as she along with Stevie Joy was going to be a Flower girl in Emily's wedding in October. Chapman's subsequent album, Beauty Will Rise focuses on this event and its aftermath. Steven Curtis Chapman almost quit his singing career due to Maria's death, but then he realized that Maria would have wanted him to continue singing.

In November of 2009 -- almost exactly 18 months after this tragic loss -- Chapman performed at a special concert at Harvest Christian Fellowship. Greg Laurie, the pastor of Harvest, suffered the loss of his own son, Christopher Laurie, just months after Chapman's loss. Steven performed several songs from "Beauty Will Rise", and took part in a live discussion between himself and Pastor Laurie. The two talked about dealing with grief and their mutual belief and hope in heaven.
Chapman and his wife are recognized advocates for adoption. Together, they founded Show Hope (formerly called Shaohannah's Hope), a charity organization that mobilizes individuals and communities to care for orphans through its international orphan care work as well as adoption aid grants to help put more orphans from overseas and the U.S. in loving, forever families. In 2009, Show Hope finished building Maria's Big House of Hope, a medical care center in China that provides holistic care to orphans with special needs. Maria's Big House of Hope is also dedicated to the memory of the late Maria Sue Chapman. Both were awarded the Congressional Angels in Adoption award by the Congressional Coalition on Adoption Institute (CCAI) in Washington, D.C. in September 2001.

In the late 1990s, Chapman became involved in youth violence prevention efforts following the 1997 Heath High School shooting at his alma mater in West Paducah, Kentucky. Chapman even dedicated a song, "With Hope," from his 1999 album, Speechless, to the families who lost someone in the shooting. In addition, he was asked to sing at the funeral of one of the victims. Chapman later gave a memorial concert, and joined Charles Colson and others in creating a video designed to sensitize teenagers to the signs of serious violence planning among peers, and to encourage them to report plans that are told to them. Chapman also has promoted the international charity World Vision for at least a decade, serving as spokesman for Project Restore, its program serving the U.S. Gulf Coast region in recovery from Hurricane Katrina, in cooperation with the Gospel Music Association.

He has also travelled to Uganda on a few occasions to help with the problem of street children, and to help orphans and adoption organizations. He has played at local churches, including KPC (Kampala Pentecostal Church) in Kampala.