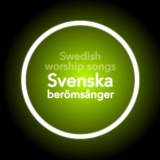 Jag Kommer För Att Tillbe (Here I Am To Worship) Chords PDF
Jag Kommer För Att Tillbe (Here I Am To Worship) Chords PDF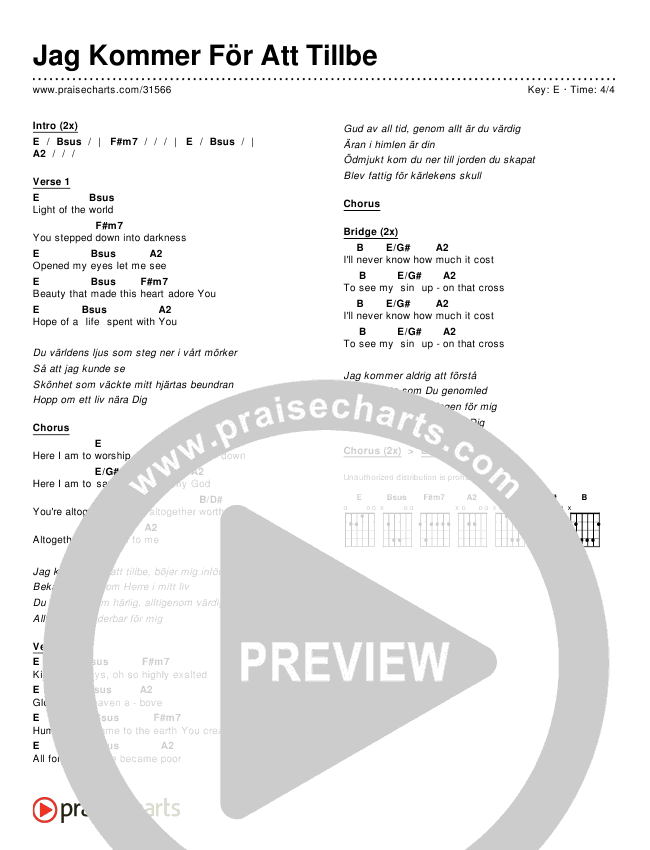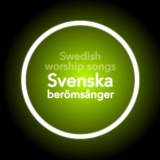 Jag Kommer För Att Tillbe (Here I Am To Worship)
Chords & Lyrics (Editable) Details
Download the PDF Chord Charts for Jag Kommer För Att Tillbe (Here I Am To Worship), from the album Worship Songs In Swedish.
| | |
| --- | --- |
| SongID | 31566 |
| Language | Swedish |
| Album | Worship Songs In Swedish |
| Authors | Tim Hughes |
| Publishers | Capitol Christian Music |
| CCLI Song No. | 3266032 |
| Instruments | Guitar, Ukelele, Piano |
| File Type | PDF |
| Pages | |
| Original Key | E |
| Available Keys | A, Ab, B, Bb, C, C#, D, Db, E, Eb, F, F#, G, G#, Gb, Numbers, Numerals |
| Meter | |
| Themes | Christmas Eve, Old, Lent, Incarnation, Darkness, Good Friday, Christmas Worship, Exaltation, Poverty, Worthiness, Sin, Love, Life, Kingship, Humility, Hope, Heaven, Heart, Easter, Crucifixion, Aspiration, Atonement, Beauty, Blood, Confidence, Creation, Cross, Earth, Adoration, Life of Jesus, Light, Thankfulness, Worship, Advent |
Lyrics
Verse 1 Light of the world, You stepped down into darkness Opened my eyes let me see Beauty that made this heart adore You Hope of a life spent with You #Du världens ljus som steg ner i vårt mörker #Så att jag kunde se #Skönhet som väckte mitt hjärtas beundran #Hopp om ett liv nära Dig Chorus Here I am to worship, here I am to bow down Here I am to say that You're my God You're altogether lovely, altogether worthy Altogether wonderful to me #Jag kommer för att tillbe, böjer mig inför dig #Bekänner Dig som Herre i mitt liv #Du är alltigenom härlig, alltigenom värdig #Alltigenom underbar för mig Verse 2 King of all days, oh so highly exalted Glorious in heaven above Humbly You came to the earth You created All for love's sake became poor #Gud av all tid, genom allt är du värdig #Äran i himlen är din #Ödmjukt kom du ner till jorden du skapat #Blev fattig för kärlekens skull Bridge I'll never know how much it cost To see my sin upon that cross I'll never know how much it cost To see my sin upon that cross #Jag kommer aldrig att förstå #Den smärta som Du genomled #Ditt kors blev räddningen för mig #Där Du bar alla min synd i Dig...
© 2000 Thankyou Music (Admin. by Capitol Christian Music Publishing)
CCLI Song No. 3266032