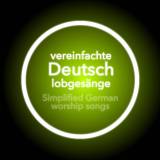 Zehntausend Gründe (10000 Reasons (Bless The Lord)) (Simplified) Chords PDF (Matt Redman / Passion)
Zehntausend Gründe (10000 Reasons (Bless The Lord)) (Simplified) Chords PDF (Matt Redman / Passion)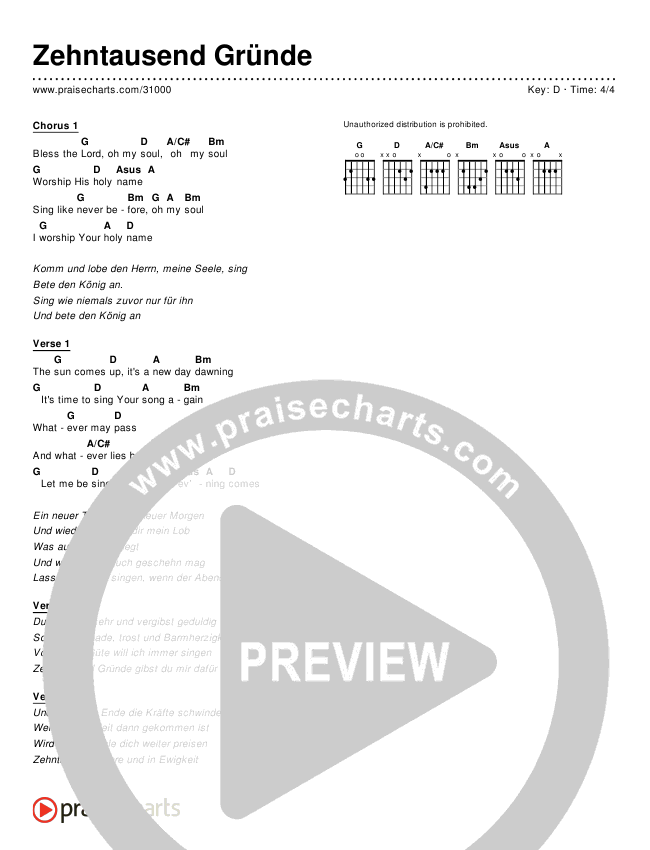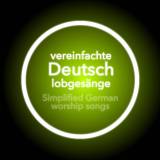 Zehntausend Gründe (10000 Reasons (Bless The Lord)) (Simplified)
Matt Redman / Passion
Chord Chart Details
Download the PDF Chord Charts for Zehntausend Gründe (10000 Reasons (Bless The Lord)) (Simplified) by Matt Redman / Passion, from the album Vereinfachte Deutsch Lobgesänge. This song was arranged by PraiseCharts in the key of A,Ab,B,Bb,C,D,Db,E,Eb,F,G,Gb.
| | |
| --- | --- |
| SongID | 31000 |
| Language | German |
| Album | Vereinfachte Deutsch Lobgesänge |
| Artists | Matt Redman, Passion |
| Authors | Matt Redman, Jonas Myrin |
| Arrangers | PraiseCharts |
| Publishers | Capitol CMG |
| CCLI Song No. | 6016351 |
| Instruments | Guitar, Ukelele, Piano |
| File Type | PDF |
| Pages | |
| Original Key | D |
| Available Keys | A, Ab, B, Bb, C, C#, D, Db, E, Eb, F, F#, G, G#, Gb, Numbers, Numerals |
| Meter | |
| Themes | Thanksgiving, Modern Hymn, , Funeral, Goodness, Love, Worship, Adoration, Blessing, Christian Life, Praise |
Lyrics
Chorus 1 Bless the Lord, oh my soul, oh my soul Worship His holy name Sing like never before, oh my soul I worship Your holy name #Komm und lobe den Herrn, meine Seele, sing #bete den König an. #Sing wie niemals zuvor nur für ihn #und bete den König an Verse 1 The sun comes up, it's a new day dawning It's time to sing Your song again Whatever may pass and whatever lies before me Let me be singing when the ev'ning comes #Ein neuer Tag und ein neuer Morgen #und wieder bring ich dir mein Lob #Was auch vor mir liegt und was immer auch geschehn mag #lass mich noch singen, wenn der Abend kommt Verse 2 #Du liebst so sehr und vergibst geduldig #schenkst Gnade, trost und Barmherzigkeit #Von deiner Güte will ich immer singen #zehntausend Gründe gibst du mir dafür Verse 3 #Und wenn am Ende die Kräfte schwinden #wenn meine Zeit dann gekommen ist #wird meine Seele dich weiter preisen #zehntausend Jahre und in Ewigkeit...
© 2011 Atlas Mountain Songs, sixsteps Music, Thankyou Music, worshiptogether.com songs (Admin. by Capitol CMG Publishing)
CCLI Song No. 6016351