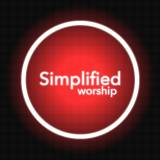 Forever Reign (Simplified) Chords PDF (Hillsong Worship)
Forever Reign (Simplified) Chords PDF (Hillsong Worship)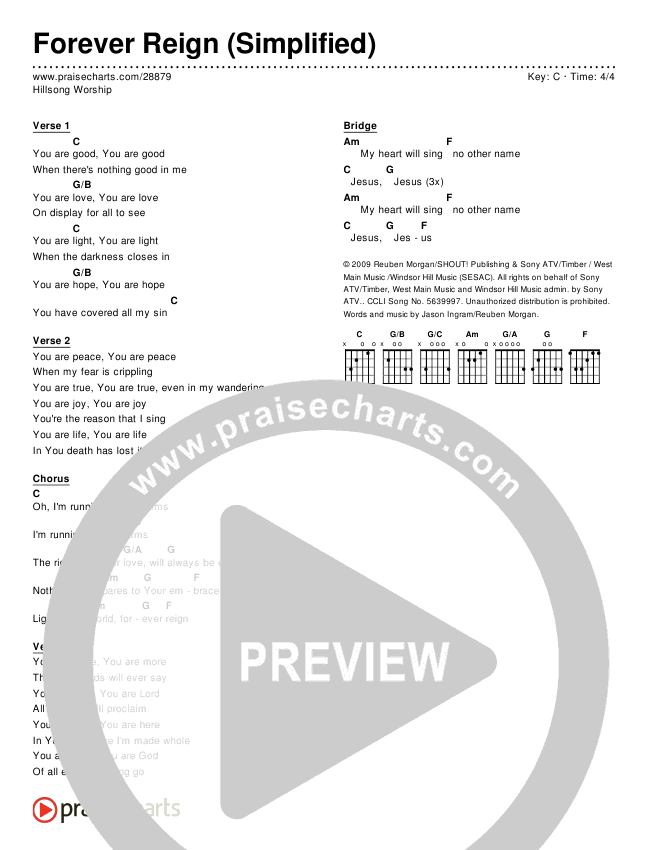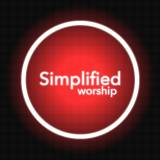 Forever Reign (Simplified)
Hillsong Worship
Chord Chart Details
Download the PDF Chord Charts for Forever Reign (Simplified) by Hillsong Worship, from the album Simplified Worship. This song was arranged by PraiseCharts in the key of A,Ab,B,Bb,C,D,Db,E,Eb,F,G,Gb.
| | |
| --- | --- |
| SongID | 28879 |
| Language | English |
| Album | Simplified Worship |
| Artists | Hillsong Worship |
| Authors | Jason Ingram, Reuben Morgan |
| Arrangers | PraiseCharts |
| Publishers | Sony ATV |
| CCLI Song No. | 5639997 |
| Tempo | Med Slow |
| Instruments | Guitar, Ukelele, Piano |
| File Type | PDF |
| Pages | |
| Original Key | C |
| Available Keys | A, Ab, B, Bb, C, C#, D, Db, E, Eb, F, F#, G, G#, Gb, Numbers, Numerals |
| Meter | 4/4 |
| Themes | Exaltation, Kingship, Love, Easter, Mother, Mother's Day |
Lyrics
Verse 1 You are good, You are good, when there's nothing good in me You are love, You are love, on display for all to see You are light, You are light, when the darkness closes in You are hope, You are hope, You have covered all my sin Verse 2 You are peace, You are peace, when my fear is crippling You are true, You are true, even in my wandering You are joy, You are joy, You're the reason that I sing You are life, You are life, in You death has lost its sting Chorus Oh, I'm running to Your arms, I'm running to Your arms The riches of Your love, will always be enough Nothing compares to Your embrace Light of the world, forever reign Verse 3 You are more, You are more, than my words will ever say You are Lord, You are Lord, all creation will proclaim You are here, You are here, in Your presence I'm made whole You are God, You are God, of all else I'm letting go Bridge My heart will sing no other name, Jesus, Jesus (3x) My heart will sing no other name, Jesus, Jesus...
© 2009 Hillsong Music Publishing (Admin by Capitol CMG Publishing) So Essential Tunes (Admin by Essential) Spirit Nashville Three
CCLI Song No. 5639997