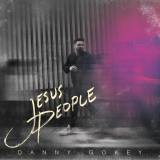 Do For Love Chords PDF (Danny Gokey / Angie Rose)
Do For Love Chords PDF (Danny Gokey / Angie Rose)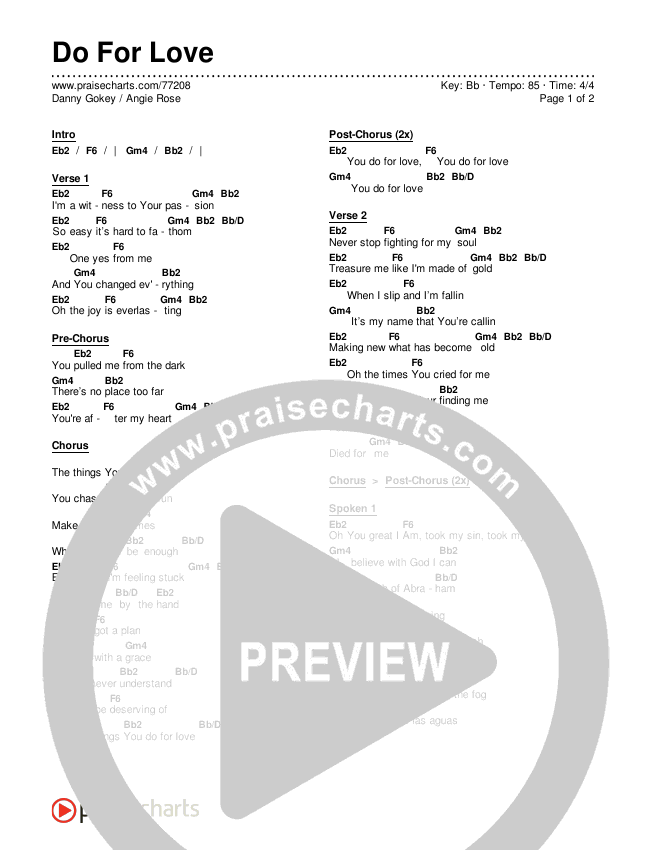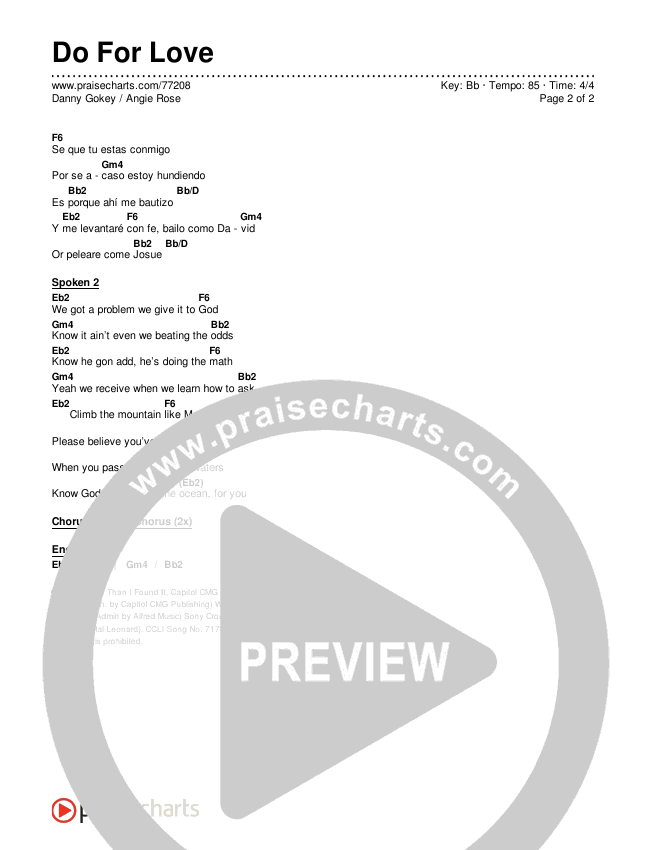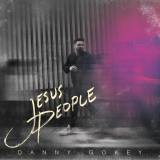 Do For Love
Danny Gokey / Angie Rose
Chords & Lyrics (Editable) Details
Download the PDF Chord Charts for Do For Love by Danny Gokey / Angie Rose, from the album Jesus People.
| | |
| --- | --- |
| SongID | 77208 |
| Language | English |
| Album | Jesus People |
| Artists | Danny Gokey, Angie Rose |
| Authors | Jordan Sapp, Emily Weisband, Danny Gokey, Angie Rose |
| Publishers | Capitol CMG, Hal Leonard, Alfred Music Publishing |
| CCLI Song No. | 7178762 |
| Instruments | Guitar, Ukelele, Piano |
| File Type | PDF |
| Pages | |
| Original Key | Bb |
| Available Keys | A, Ab, B, Bb, C, C#, D, Db, E, Eb, F, F#, G, G#, Gb, Numbers, Numerals |
Lyrics
Verse 1 I'm a witness to Your passion So easy it's hard to fathom One yes from me and You changed ev'rything Oh the joy is everlasting Pre-Chorus You pulled me from the dark There's no place too far You're after my heart Chorus The things You'll do for love You chase me when I run Make up for the times When I'll never be enough Even when I'm feeling stuck You take me by the hand Say you got a plan Hold me with a grace That I'll never understand I'll never be deserving of All the things You do for love Post-Chorus You do for love, You do for love You do for love Verse 2 Never stop fighting for my soul Treasure me like I'm made of gold When I slip and I'm fallin It's my name that You're callin Making new what has become old Oh the times You cried for me And when im lost Your finding me I cant believe You died for me Died for me Spoken 1 Oh You great I Am, took my sin, took my hand I believe with God I can, got the faith of Abraham Walking, talking, moving, ooh I got the Spirit of God, yeah Lost inside the storm, ooh He came to clear out the fog Cuando paso por las aguas se que tu estas conmigo Por se acaso estoy hundiendo es porque ahí me bautizo Y me levantaré con fe, bailo como David, or peleare come Josue Spoken 2 We got a problem we give it to God Know it ain't even we beating the odds Know he gon add, he's doing the math Yeah we receive when we learn how to ask Climb the mountain like Moses Please believe you've been chosen When you pass through deep waters Know God will walk on the ocean, for you...
© 2021 Better Than I Found It, Capitol CMG Paragon, Songs By JSapp (Admin. by Capitol CMG Publishing) WC Music Corp., Weistribe Publishing (Admin by Alfred Music) Sony Cross Keys Publishing (Admin by Hal Leonard)
CCLI Song No. 7178762