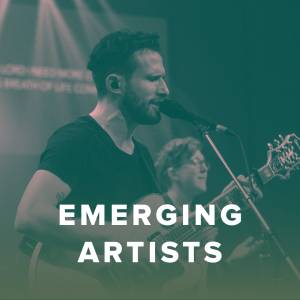 PraiseCharts presents the Emerging Artist Program opportunity to worship artists & publishers seeking professional distribution and promotion for their recorded works. Participants may include unsigned solo artists, bands or record labels. Our unique program has been developed with emerging artists in mind and was designed to share the worship experience you have created with thousands of worship leaders around the world while enhancing your endeavors as a developing artist or publisher.

Successful applicants in the Emerging Artist Program will receive the following benefits:
An Artist profile on the PraiseCharts platform that displays your album and charts, plus links to your website and social pages.
A non-exclusive digital distribution agreement for an EP of up to five (5) songs.
A chord chart listed for one week in the "New Chord Charts Just Added" and "New Worship Music This Week" song lists, seen by up to 10,000 people each day.
Album placement on the PraiseCharts Emerging Artists page and Emerging Artist song list.
Promotion of the Emerging Artists Page in a regular weekly email to 200,000+ PraiseCharts customers.
An album or song is mentioned on the PraiseCharts Instagram and Facebook pages.
A song placed into PraiseCharts Emerging Artists Spotify Playlist.
All applications will be reviewed by members of the PraiseCharts Emerging Artist submissions committee. A non-refundable application fee of $50 USD will be charged for all submitted applications. Should your application be approved, a payment of $500 USD will be required before you are officially accepted into the 'Emerging Artist Program' and you will be required to sign a PraiseCharts Non-Exclusive Distribution Agreement. PraiseCharts reserves the right to reject any songs that have been submitted, for any reason.

Where artist charts have not been created, custom arranging services are available at a per-song fee of $30 USD per chord chart and $95 USD per lead sheet. All charts and audio will be distributed at no charge until a predetermined level of download tractions has been achieved. Enhanced marketing services, including distribution of additional songs, are available at additional fees. Please contact our PraiseCharts artist care representative for details.
Get started right now with Terms and Application Form, and in almost no time at all, your songs will be on PraiseCharts too!

Below are a few examples of past song submissions:
Last Updated: March 27, 2023